Valentine's Day {Our Way}
1:06 PM
I am a fan of Valentine's Day. I always have been. I was the single girl that passed out red roses to fellow single ladies on Valentine's Day so that they would feel loved. Love is amazing. God is love and we love because He first loved us and if Valentine's Day reminds us of love--- pure, amazing, sacrificial love --- then I'm a fan.

So I am a fan of Valentine's Day. I am not a fan of doing things just because everybody else does them. I am NOT a fan of the relentless advertising that tells men that their worth and their self-respect and their ego is all tied up in what they've done and what they've purchased for the lady in their life. Last week, I spent approximately 45 minutes attempting to watch the Olympics (gave up because the only thing on was some random preliminary hockey game that was not the USA and therefore we didn't care) and was disgusted by the tone of commercials regarding Valentine's Day. Brandon and I eye-rolled collectively at this and I knew our plans would be much more meaningful and much less expensive, so win-win for us and lose-lose for the corporate giants banking on taking our hard-earned money. So I'm sharing about our Valentine's Day. Not because you should do anything like us or because it was better than anyone else's, but because it was us and it was lovely and it was good.

We waited to celebrate until Sunday (February 16th), because as Brandon so eloquently told his coworkers, "If the greeting-card companies can create a holiday, then we can celebrate it two days later." Hehe We know that Valentine's Day was not exactly created by greeting-card companies, though definitely popularized by them, but you get the picture.

We decided to stay home and eat because a) too many people in the restaurants, b) we both love being home, c) Brandon loves my cooking, d) we could do Valentine's Day nicer while staying within our budget. PS – I recently started using Mint.com again for money-tracking and I am LOVING it. Yay for fiscal responsibility starting in the home! ;)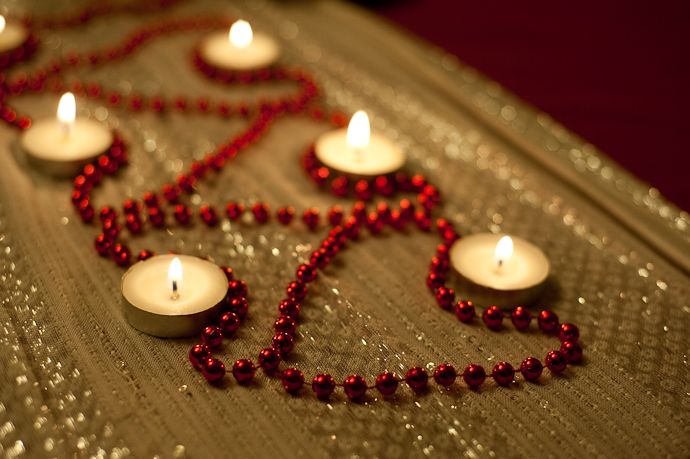 My Valentine's preparation started late Sunday afternoon. Brandon was still blissfully napping (Sundays are for napping), but I was too excited about décor-food-date-night to sleep! I started my little decoration rampage by rummaging through the guest bedroom closet and finding an odd dark red sheet (works for a tablecloth in a pinch!), then over to my room where I found the shiny white-and-silver scarf which became my table runner. Then I'm opening boxes of not-quite-put-away Christmas decorations and am victorious. After opening the fourth box, I find the red beads. They had adorned our Christmas tree not too long ago, but now I'm looping them into a heart-shaped pattern and dotting tea lights around. Added a few white tapers (apparently I stockpile candles!) and the table is set!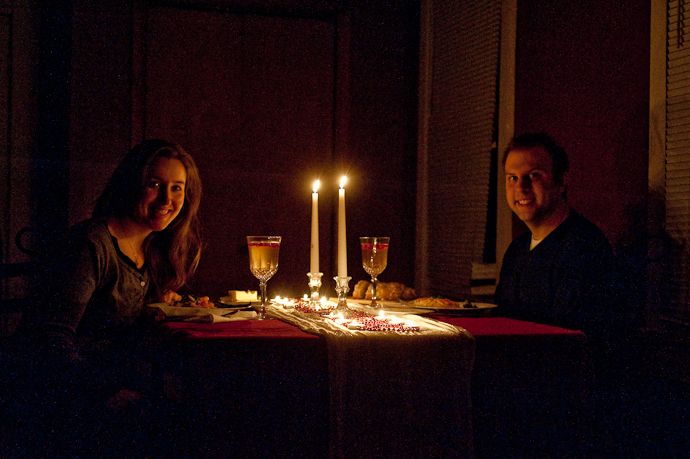 *sigh*. It's so romantic. And let's talk about the food. Main dish of shrimp linguini and broiled asparagus. I added some red pepper flakes to the tomato sauce for some kick.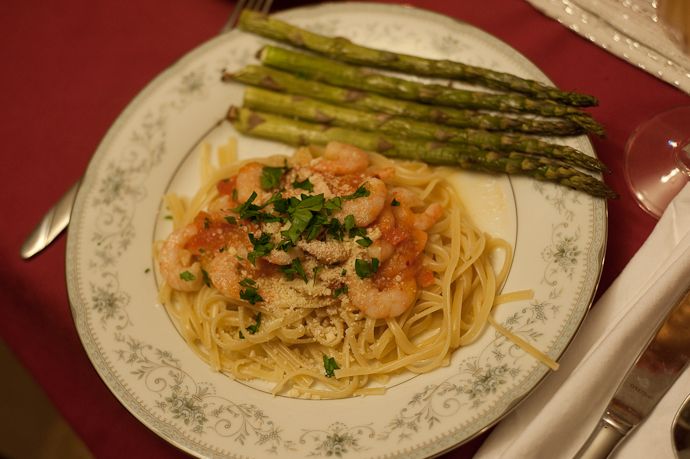 I used a Wegmann's dry bread mix for the no-knead garlic artisan bread on the side (so good for mopping up those tomato juices!). And I added fancy-ness by recreating a look I saw in a magazine: pomegranate seeds topping our sparkling white grape juice for Valentine's-Day-appropriate color.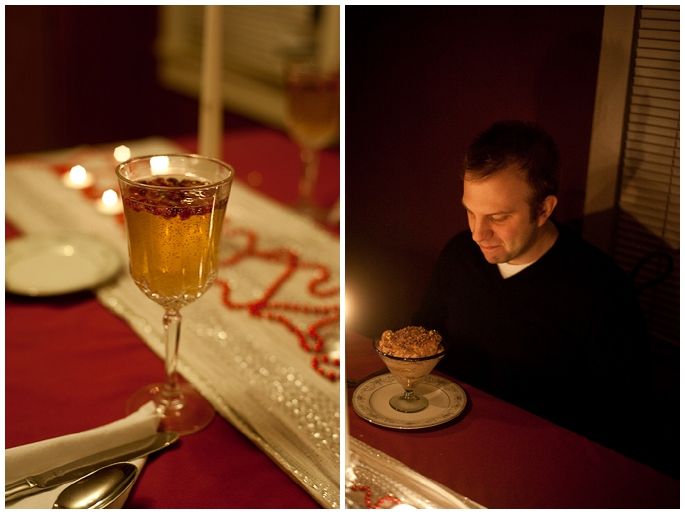 The crowning glory? My own creation of Nutella Tiramisu.


I knew that the combination of all our favorite things – Nutella, whipping cream and coffee – would make up the sweetest end of our meal. And I was right. It was so sweet and rich and delicious that we barely made a dent in our dessert dishes! Now the leftovers are at home taunting me as we speak….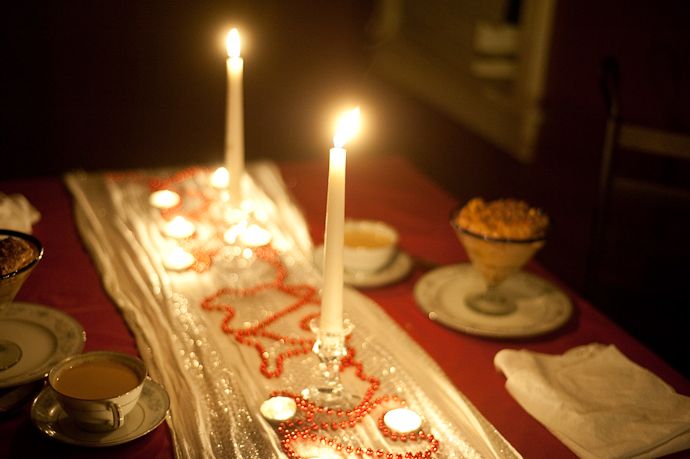 The intangibles are my favorite. The things I can't take photos of. The look of love in my husband's eyes. The unendingly interesting conversation. Our shared laughter and joy as we look over the scrapbook I just finished. And the identical smirks and laughs that we give at the witticisms in Casablanca. The last part of our fun-and-frugal Valentine's Day was a movie at home. Because you can rent movies for free at your local library. Oh yes!
Sweet end for a sweet date night. At home.