Slices of (Delicious) Life
12:59 PM
This is going to turn into a bit of a narrative. I have already determined that I'm just gonna go with that. I have confessed my love for topical blog posts, but we're goin against the flow. I'm currently on my lunch break, munching on the most delicious Italian Meatball Spaghetti Squash casserole. It's a loose version of this Skinnytaste recipe + my own version of Giada's Turkey Meatballs + a gifted jar of spaghetti sauce from Brandon's grandma. Because when we go to Grandma Joyce's house, we always come back with many, many gifts.

We headed down to West Virgina for a pleasant Thanksgiving Day with Brandon's grandmother + "Aunt" Linda and Brandon's brother & his fiancee and their baby girl. Basically, we arrived and I gave out hugs and then swooped little baby Marley Jean into my arms for auntie time. I don't think I'm as skilled as it looked (they were calling me the 'baby whisperer)--- poor baby girl was tired from being overly interested in Grandma's house—but she quickly fell asleep on my lap for a half hour and looked like a little cherub in the process. It was a lovely day filled with the Thanksgiving Day parade, collective dog-mocking during the televised dog show, Nat King Cole, getting in the Christmas spirit, talking and smiling around the table during Thanksgiving dinner and more food than we could handle (including my contribution of homemade apple and pumpkin pies).

Bittersweet family moments like this always sting for a little while. We are supremely grateful for Brandon's grandmother and for the opportunity to spend time with what family that we can. Brandon's brother is now based in New York state, just across the Pennsylvania border so we can see them more often. And it was great to catch up via phone with his sister who is residing in the great state of Texas. But there is always the underlying reminder that I have not been blessed with the opportunity to know Brandon's parents. And Brandon's twin brother and his family. It hurts most during the holidays, when I remember that there are people that were integral to his growing-up years, to his very identity, and they are shut out from our lives. That there are family traditions happening that we are not apart of – and not by our own desire. It hurts and it takes me a little while to remember what Thanksgiving is, and what I ought to do—simply and genuinely thank God for the blessing of my husband and our beautiful life together… and pray again that God would restore what the enemy has stolen.

For the rest of Thanksgiving break, we hunkered down for a hibernation-vacation. We were supposed to go out of town for a few days --- but the Thanksgiving day travel just wore us out and we ended up staying in, reading books, decorating our Christmas tree and making beautiful memories to the tunes of Nat King Cole.

Now it's back to the college grind for a couple weeks until Christmas break!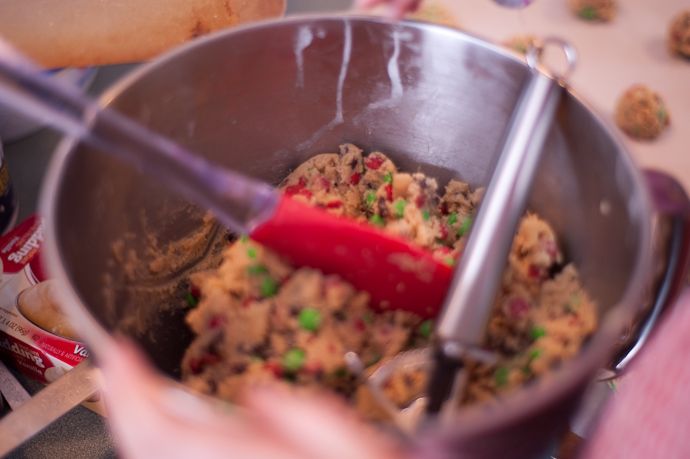 I like traditions. Old ones are great, but making new ones are even better.

This year, my sister and I decided to our Christmas cookie baking together…. because it's so much more fun that way. Ya know, I'm not sure why we hadn't thought of this before. We got out our aprons and both managed to buy too many chocolate chips (now I am well-stocked for munching. You don't know how much I love chocolate chips).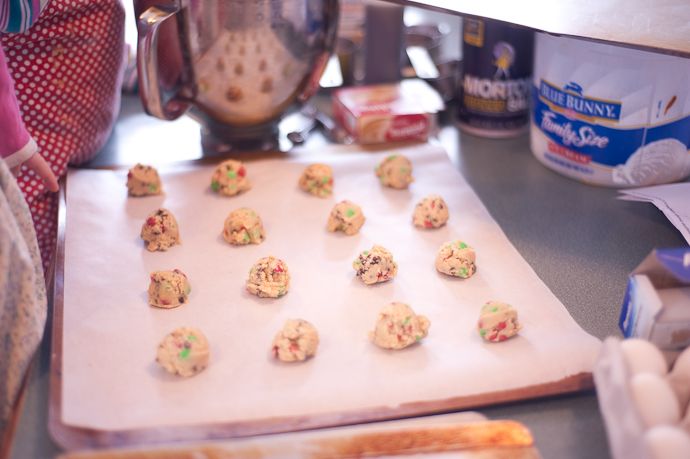 And we baked and baked and baked.

We also dipped everything imaginable in chocolate. Graham crackers? Why not?




We made M&M cookies (with Christmas M&Ms, of course!), gingersnaps, pecan sandies, peanut butter balls, almond thumbprint raspberry cookies, peanut butter blossoms and all the various chocolate dipped concoctions. Then I packed up two huge platters for Brandon's workplace and my workplace, and am trying to resolve to keep some of those cookies for our Christmas holidays together.

It's funny how Christmas baking makes you feel all warm & fuzzy inside…

What are your Christmas traditions? Old or new?