Beautiful Monotony & A Touch of Maine
9:20 PM
Life always seems to settle into a bit of monotony during the semester. So when I talk to people and they ask how things are going, I'm like, "gooood. Not much happening." I mean, life is happening and it's always a bit of twists and turns, but generally our days look about the same. I like these times of quiet work, but I also like planning our next adventure (did you read about Arkansas?).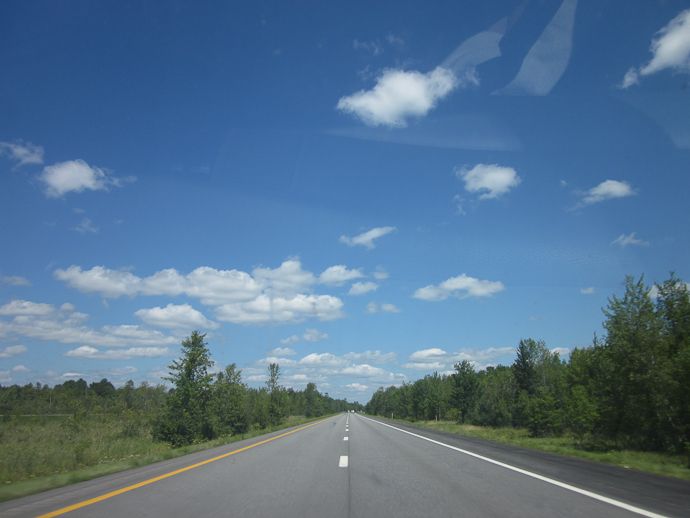 Thinking about future adventures has got me thinking about past adventures… and that I never really blog-shared about our wonderful Maine adventure in August 2013. That, my friends, is truly a pity, because it was a graaaaand adventure. It was the first real let's-go-away-for-a-week vacation that we've had since our honeymoon and we were super-excited about it. I intentionally left my iPhone at home and stayed off-the-grid so that we could just focus on spending time with each other, resting and relaxing. We thought hard about where to go, what to do, where to stay and…. yes, it's true… what to eat. Hehe. The end result was pure enjoyment.

Let's talk specifics:
Where: Mount Desert Island & Acadia National Park, Maine
For most of my growing-up years, my family travelled a lot---at least once a year. Because my dad worked in the swimming pool industry, his not-so-busy season was in the fall-ish/early winter time and we always tagged along on his business trips to the annual pool show. That's one of the perks of homeschooling---flexibility! Our travels mostly took us south (Florida! Texas!), southwest (Arizona!), and all the way west (Oregon! California!), and always our middle-stops in Tennessee and Missouri. As you can see, we had a serious lack of northeastern USA travel. That situation was remedied around 2008 when my parents, little brother and I visited Maine for one of my favorite vacations ever. So Maine was on Brandon & I's married-bucket-list (would you believe that we made one of those on one of our three 'first-dates?"' Yes, three. It was complicated.). Basically, Maine was a dream come true.

When: Late August
We knew that we'd be hitting Maine at the peak of tourist season and were not thrilled about that --- we love nature, but we don't love crowds. But being married to a college student has certain restrictions. One of the most important restrictions is that one does not have the freedom to go on vacation during the (always less busy, always less expensive) off-season. But we'd deal. I mean, complaining about vacation challenges is like textbook #firstworldproblems.

How: Road Trip!!
Because road trips are awesome. It's non-stop talking with my favorite person in the world.

Who: Us. Wonderful, wonderful us.
This also counted as our two-year-anniversary celebration, which is pretty awesome. Two years of marriage down, so many more to live.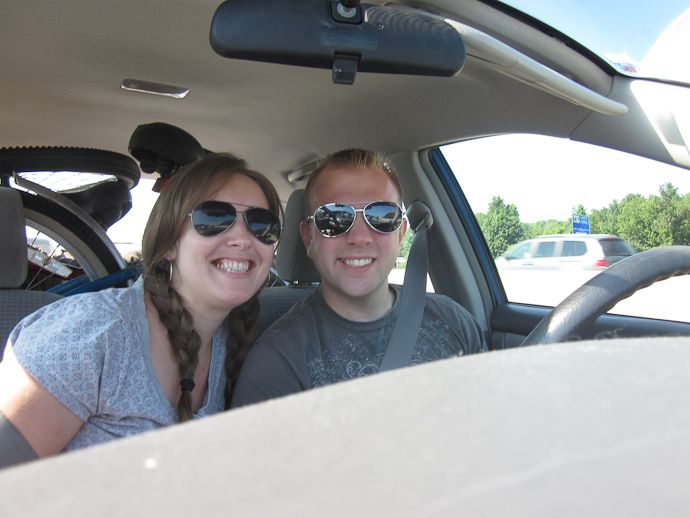 It looks like Brandon is getting his picture taken while driving, but the sunglasses fake you out. He's actually looking at the road. Oh, the wonders of sunglasses.

If I talked ALL about Maine in one blog post, it would be gigantic. And you probably wouldn't read it all. So I'll share bits and pieces of it over the next few days/weeks/I make no promises on timelines where blogs are concerned, but today I will limit myself to talking about the cottage.

One of our concerns with going to Maine was cost, because you know, some of the most common-sense advice I've ever gotten was to never, ever, EVER go into debt on things that depreciate in value. Vacation is a prime example. Vacation is gone (besides the fun memories!) by the time you get home. So budget, save and pay in cash. We knew that hotels were too expensive. We wanted to cook some of our own meals to save money, and we also wanted to get away from the crowds that overwhelmed Bar Harbor.



This was the answer. This adorable little sea-view cottage was on the "quiet side" of Mount Desert Island. It was a good thirty minutes away from Bar Harbor, which suited us fine since we spent most of our time in the national park anyway.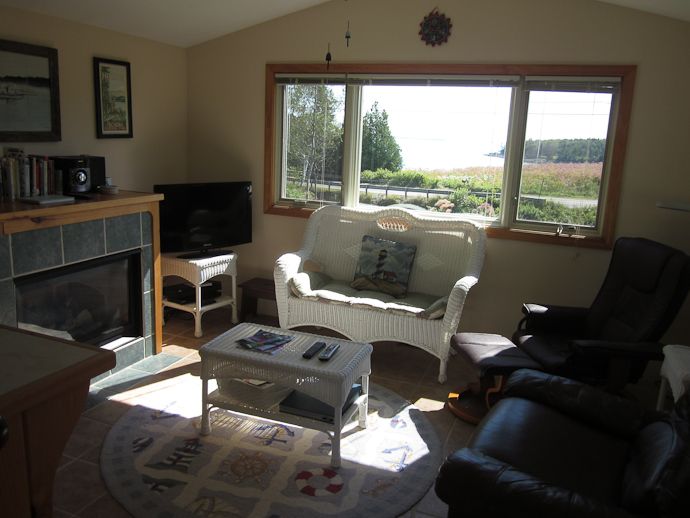 This is the view! I was always drawn to the window to watch one little sailboat going back and forth throughout the day.


The inside of the cottage was cute, tiny and comfortable. We LOVED it.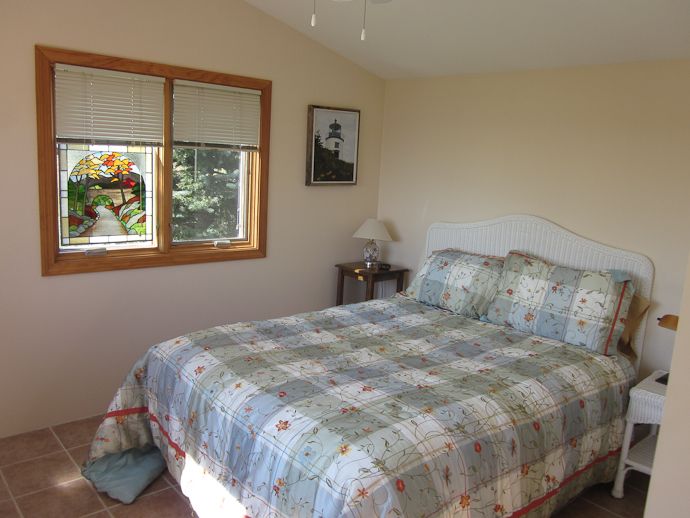 One of the owners (who lived in a big house behind the cottage and always waved to us when we sat on the deck) is a bit of an artist. It's ocean art!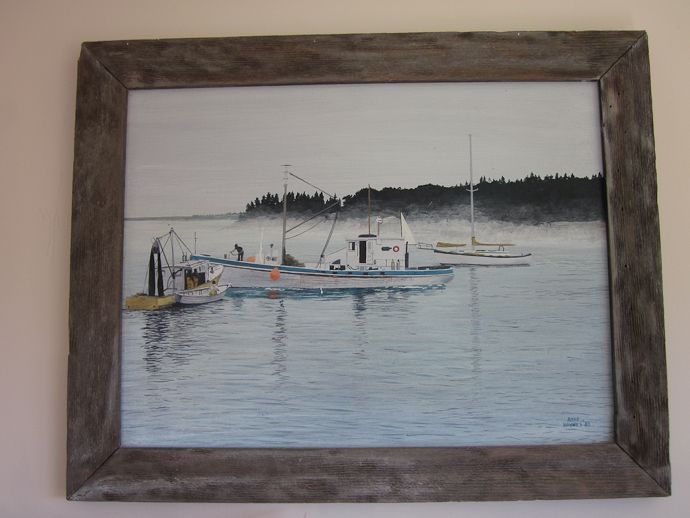 It was hot August weather for most of our stay, but occasionally we braved the hot noon sunshine to have lunch on the deck. Sandwiches, homemade iced coffee and… yes, Maine blueberry turnovers from a local bakery! (I'll talk more about the food in a later post!)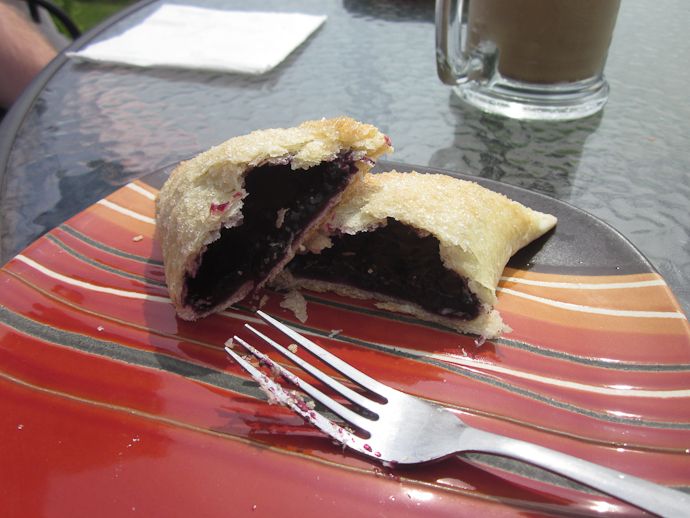 That little cottage was one of our favorite parts of the vacation. We loved the location and solitude and the view. If there were any negatives, it would be that the island only has a couple main roads and there seemed to be a lot of trucks passing often, and that we visited during the hottest week of the year and all the windows welcomed the heat and then kept it in the little house, but really, we can't complain.

After a few days, I began to know the road that we drove "home" on, all its little twists and turns and funny restaurants and national park signs. I would look forward to seeing what level the tide was at during the different times of day. I liked looking at the boats and docks and views. I always looked forward to this one spot where the trees parted suddenly and then there was this lagoon and view of the mountains.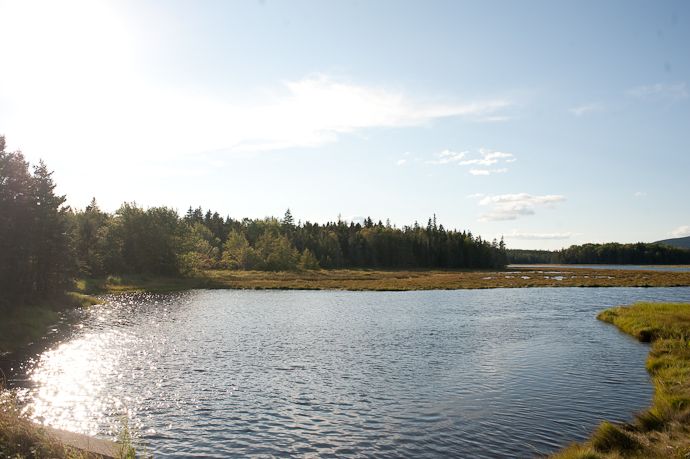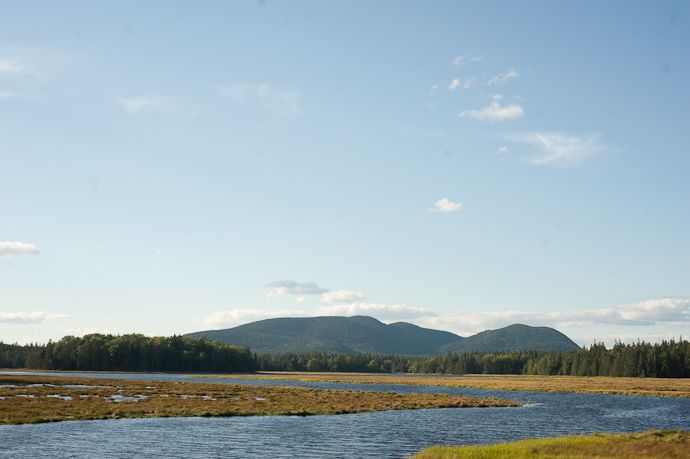 Before we knew it, we were back at our home-sweet-home-for-a-week.