Our Little Apartment Tour
2:09 PM
Who wants to go on an apartment tour? Raise your hands! :D

We were pretty excited when we walked into our new little apartment after hours on the road nearly two weeks ago. It was found through the great Internet machine and booked via phone, so there's always a bit of a nagging suspicion that we were gonna be gypped. We eschewed more expensive apartment complexes because a) they were more expensive and every extra dollar in our lives goes to the great Pennsylvania State University, yo, b) the only real differences were that those more expensive places had swimming pools and an overwhelming majority of college student rentals. While Brandon is a college student, you can understand why we prefer not to be surrounded by the 'party-hearty' crowd… also, college students & swimming pools seem like a bad combination. I may (slightly) regret the lack of an accessible swimming pool when we get into the depths of Arkansas summer heat, but hey, I'll just buy a little wading pool at Walmart and put it on our deck. At least my feet will be cool. And if I learned anything from my teenage summer job as a greenhouse water girl, it is that when your feet are cool, your whole body stays cool. The wading pool is a great idea! Yeah!… (I suggested this to Brandon and he shook his head & laughed).



See our cozy little living room. The couch is semi-comfortable. Sometimes I give up sitting on it and go sit on the floor instead, because the carpet is niiiiice. Or because I'm a savage who was raised in the wilderness and is actually more comfortable on the ground (maybe I've read too many pioneer stories?).

I couldn't fit the piano in our car so I brought the acoustic guitar. Playing it again is downright lovely. I found a guitar tuning app on my iphone so my #1 objection of the guitar not being in tune isn't valid anymore. Guitars had a more solitary sound than pianos, so I'm really appreciating the difference. And the guitar is inspiring my too-long-dormant songwriting. Funny side note: Ya never realize how important a blank notebook is until you travel hundreds of miles away from home and have nothing to write on. Really! I had to go to Walmart to buy a notebook!

Like my little travel suitcase decoration? It was a going-away gift from our church and I think it's so cute! Also, I had to bring it along because it contained emergency food rations… no worries, the rations were consumed and now it is empty. I ate all the marshmallows, Brandon ate all the cookie butter and we both ate the Nutella... and decided that the healthy choice is to NOT BUY ANY MORE. :D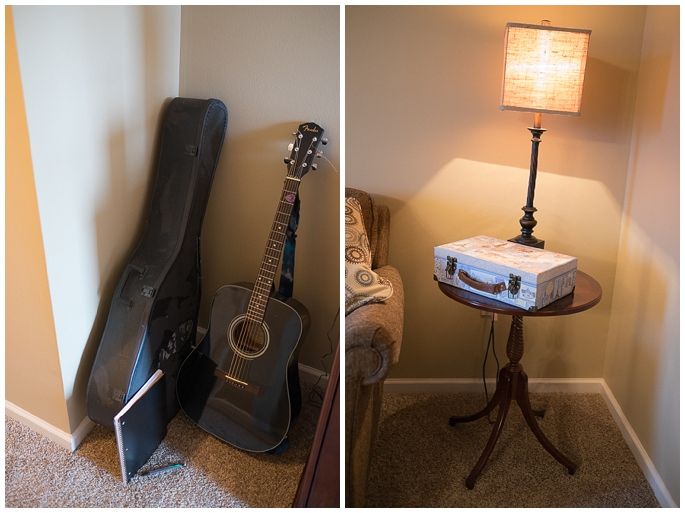 True confessions: This is the only area of the apartment that I actually cleaned in preparation for taking a photo. It quickly because our dumping area for anything and everything random. I had to go through all our electronics, papers and free internship gifts (there was even sunscreen & a beach ball! I'll put that in my imaginary wading pool)… And we have no lack of laptops. You can see three here. Mine, Brandon's college laptop and then his (Pennsylvania) work laptop; he's still working twenty hours a week in the evenings/Saturdays to keep up with his PA job. Then he has his internship laptop that goes back and forth to work during the day with him! *shaking my head at technology*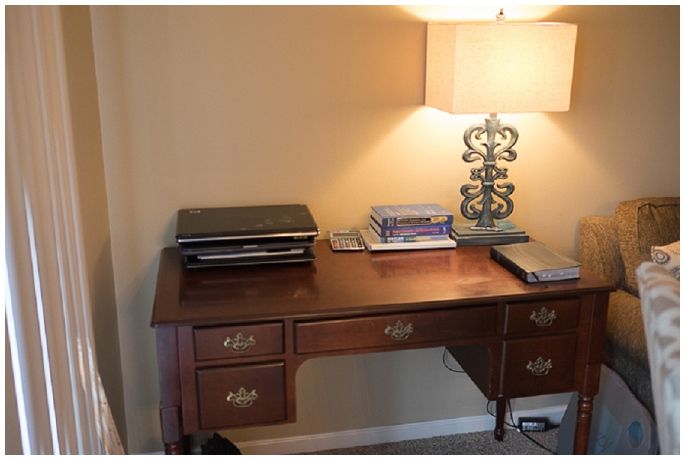 First view after one walks into the apartment. You can see our balcony. We have a lovely view of… a roof to a gas station. :D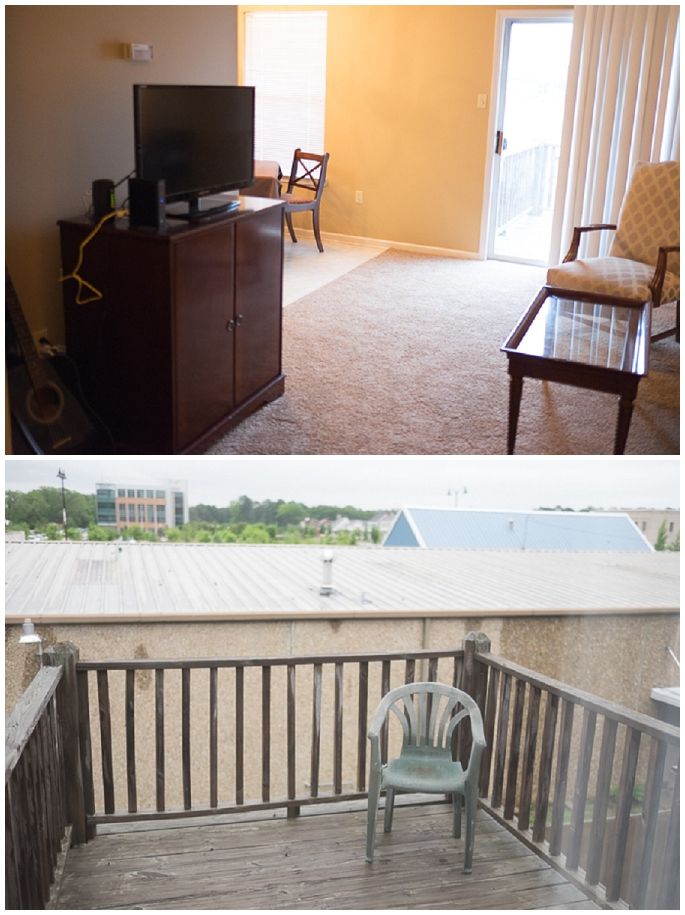 Living room! Dining room!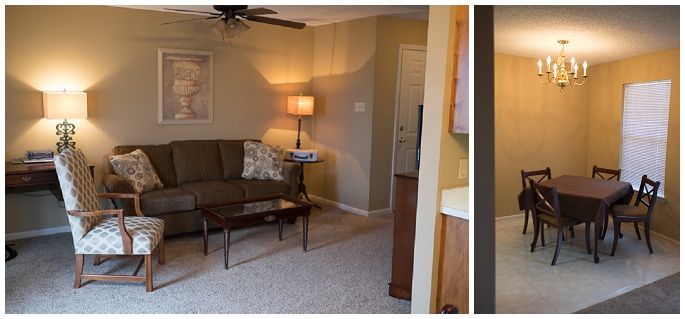 Ohhhh kitchen! I like the kitchen. I brought essential things along like my cast iron skillet, recipe books (that's a free cookbook I got from the last church we visited!), coffee grinder and blender. All the important stuff. See the random water glass hanging out on the counter? I leave them everywhere as part of my secret plan to drink enough water. I have to go and collect glasses before loading the dishwasher.

The color palette of this apartment is very warm and neutral. I'm diggin' it. I brought a collection of favorite books from home. Don't leave home without Sherlock Holmes, Jane Austen, Louisa May Alcott and The Chronicles of Narnia (TCON to all fellow enthusiasts).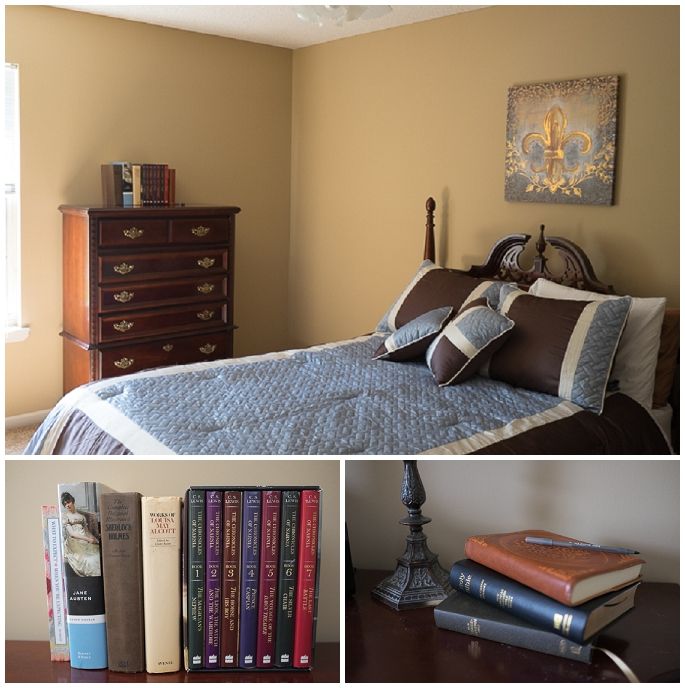 Other parts of the apartment that just thrill my soul: CLOSETS! There are three! Ohmygoodness, I really love closets. One minor deficiency of our cute little cottage back home is that it was built over 150 years ago, before people had so many clothes. Closets just didn't really exist. But here, we have a walk-in closet in the bedroom, plus a hallway closet, plus a utility closet. It's blissful.

And I'd show you the awesome bathroom, but that's just weird. I love that there is so much space on the bathroom vanity and I can spread out the stuff!

So that's it! Our cute little apartment. I am thrilled with our little home-sweet-home in Arkansas and I'm sure it will serve us well for the next three months!