A Birthday Hike on Mount Nittany
12:12 PM
On my 33rd birthday, I woke to an early morning text invitation... to go hike Mount Nittany with my sister (a homeschooling mama) + her four little girls, plus their friends (also homeschoolers). It would seem that I had a choice to make -- I could do the planned birthday thing... which, truth be told, was no plan at all during the daytime hours. Because when one grows up, chores still need to be done on birthdays and the husband still goes to work and the baby still needs to eat and drink and nap all the same.


After waffling back and forth for about one minute, I decided to gallivant. Throw caution to the wind. Pack up the baby and go for a ramble in the woods. Why not? My early-November birthday coincided with one of the last warm days of autumn, and the temperature was projected to reach the mid-70s. How could I possibly stay inside during that?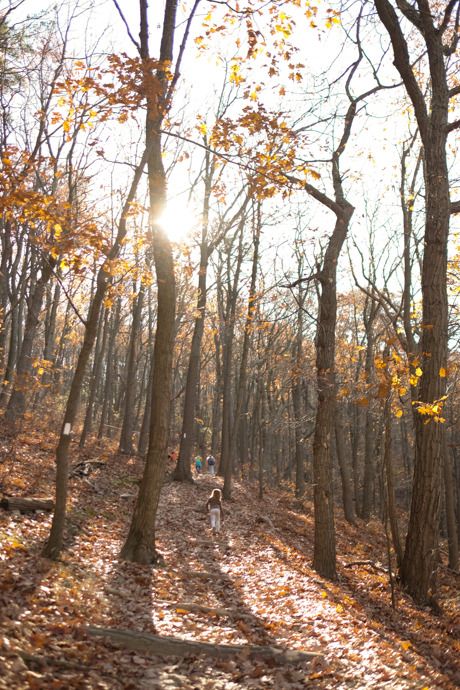 Our hiking adventure began mid-morning. All the youngest people were strapped to the backs of three mamas, including my dear sweet Devereaux. It always makes me feel a little like I can do anything when hiking through the woods with a baby on me. Maybe it's the sweet taste of independence or the feeling of physical power or maybe it is simply the fact that I often wear Devereaux when outside, so in my brain, I associate it with fresh air and the shivers of wonder that come from God's creation.


Baby on back, (real) camera slung over my shoulder and we hike on.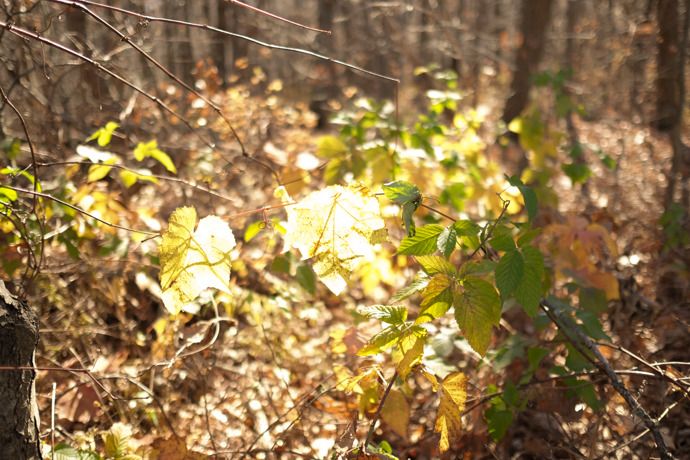 I am so glad that I made the decision to take the camera, for I made an important discovery. The golden hour - that wonderful time of soft light and golden glow - extends to almost all day when you're in the forest. I spent most of my time looking up into the rustling trees and down into the fallen leaves and around at the varied colors of leaves still clinging to branches.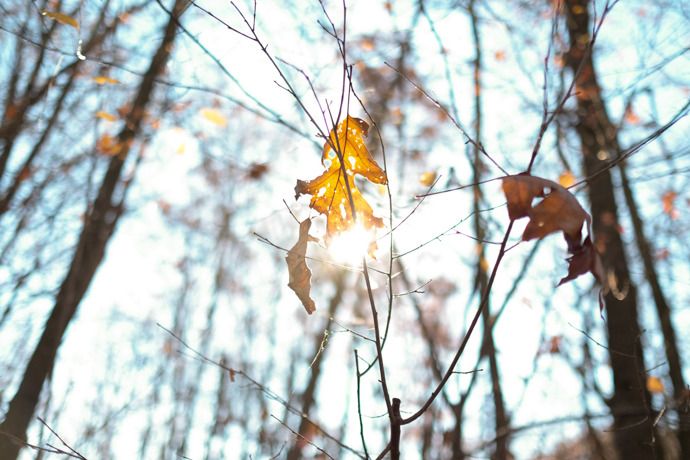 Nature was alive and beautiful and if you can't tell, I've been rereading all my favorite books from the great, descriptive authoress: L.M. Montgomery and that makes me the best mixture of sentimental and observant when it comes to experiencing nature.


We reached the first overlook after roughly 45 minutes of hiking. It was steep, but doable, but the view of Happy Valley was SO VERY WORTH the effort. The overlook was the perfect place for resting and picnicking.


Note: I love how willing kids are to ask questions, even though their curiosity required me to think deeply about the meaning of the word "pristine."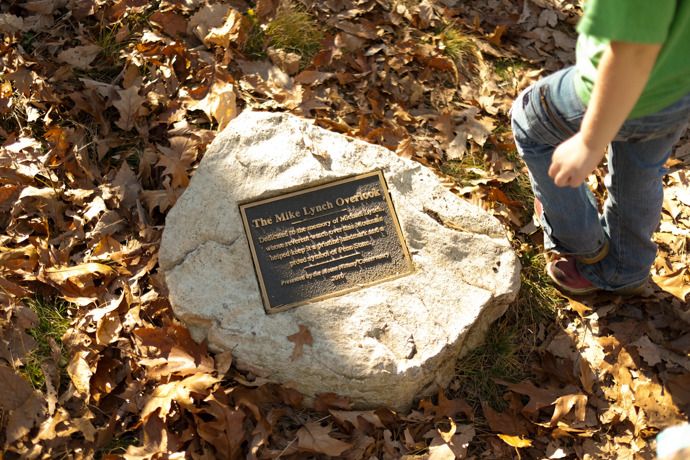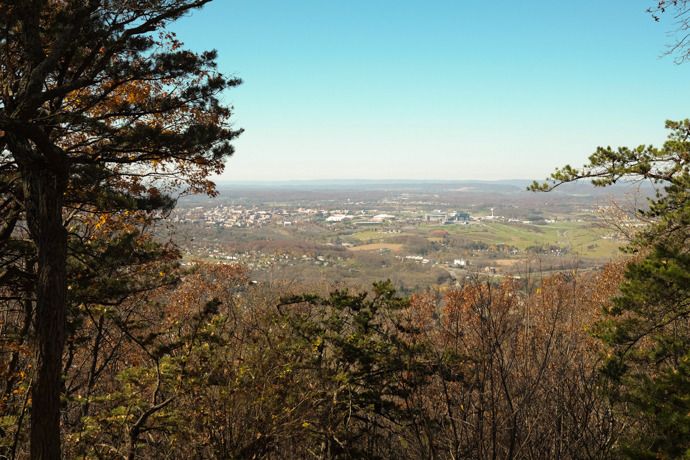 Through our little lunchtime mountaintop picnic, I focused on keeping Devereaux from eating too many leaves and wondering where he threw his teething biscuit. Also, hiking works up a good appetite!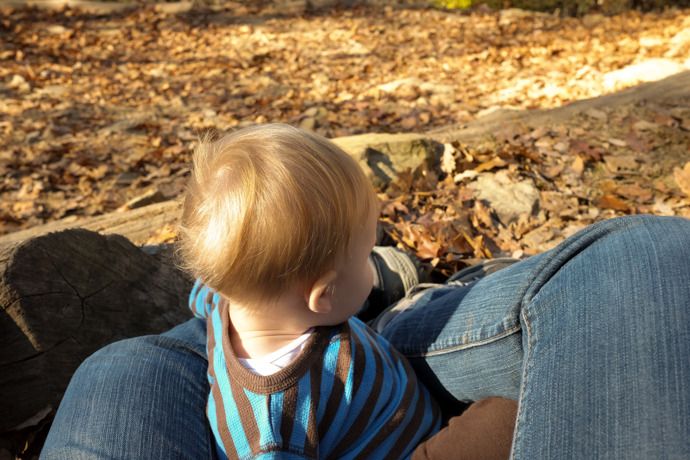 My sister is an explorer in her own right, and she also has the privilege of owning two delightful dogs that love to explore, too. A Golden Retriever and a Bernese Mountain dog. While I keep telling myself that I WILL NOT GET A DOG YET (for a myriad of practical reasons), it doesn't keep me from enjoying some of the quality-of-life benefits to hiking with her dogs. Dogs are just downright happy about being outside which makes me happy, and (if they are well-trained, as these two are) they can be off-leash and hiking happily down the trail in front of you without disappearing, waiting at the perfect intervals for you to catch up. And last-but-not-least, having BIG dogs makes one feel safer, because even if they are nice, sweet, happy dogs... they are also madly devoted to their family, so other folks tend to approach with caution and not try any funny business.

I should stop talking about dogs, because then I'll start thinking about it too much and... I just like dogs.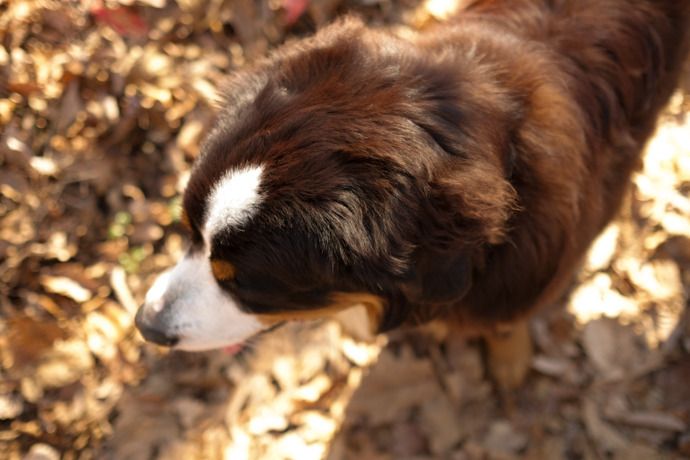 We headed onward to the next overlook. It became more of a "walk" than a "hike" because we were hiking along the mountain's ridge, so it was easier to engage in conversation. Though the leaf cover was thicker on the ground and children dragged their feet in delight, so all we heard was the surprisingly loud RUSTLE RUSTLE of leaves. And even so, Devereaux fell fast asleep while on my back and napped for the next half hour or so.


They helped me by picking up interesting leaves so I could take pictures of them!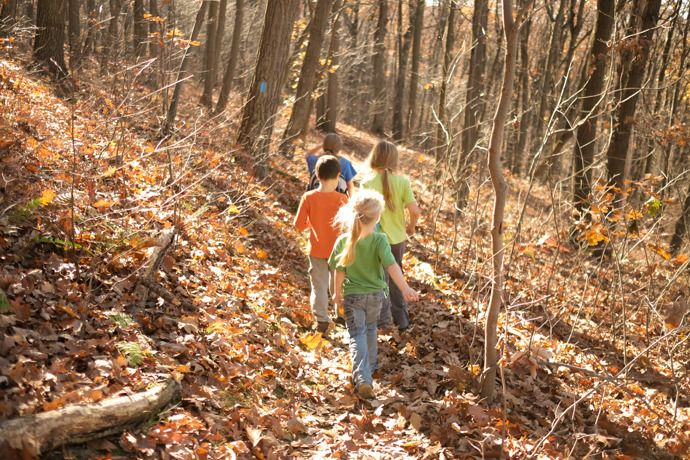 At the second overlook, we were faced with a (literal) fork in the road. A choice to be made. Would we return to the first overlook and go back the same way we came? It was shorter, but steeper--so we thought. The other choice was to go down the longer trail, which was supposed to be "rocky" but was longer so we thought less steep and easier for mamas with hiking backpacks.


We took an informal vote, but in hiking, democracy only goes so far. The dissenters were overruled by the mamas carrying little ones on their backs and we decided to head down the long way. The initial uproar was quelled by the perfectly-timed mention of what was happening after hiking: ICE CREAM! My years of enduring hours of cold snow-removal for the promise of a hot meal have taught me that there is nothing wrong with looking forward to some short-term gratification of the food variety!


The next hour was a wee bit difficult. The terrain was very rocky, surprisingly steep and also covered by many leaves, so finding good footing without losing balance was difficult. I was living in fear of tumbling down the mountainside (with a baby on my back) or at the very least, smashing my camera. Neither of those things happened... so we could assume that my fears were unfounded --- or perhaps, they just caused me to be reasonably cautious (all fear is not bad. There's a life lesson for ya!).


Eventually, the trail became a flat road and we knew that we were nearing the end. I would sum up with this; it was a glorious hike and therefore, a glorious birthday. I was reminiscing about the time that I hiked Mounte LeConte in the Great Smokies with my dad... on my 23rd birthday. So I guess I should do memorable hikes more often than once every ten years? It is a good birthday tradition.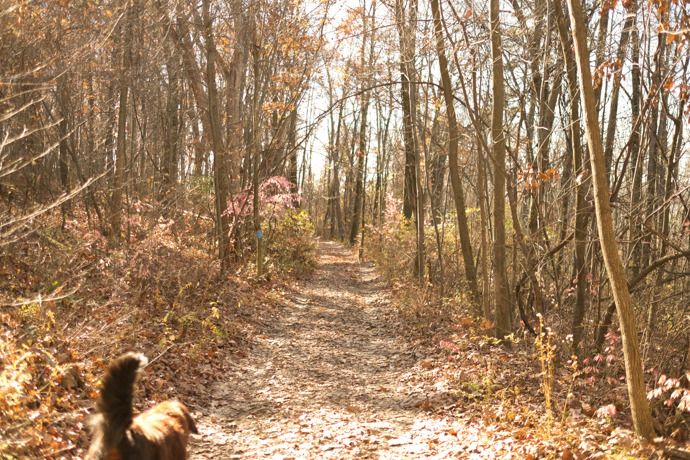 The hiking adventure was crowned with eating a deliciously melting huge hot fudge sundae with chocolate-marshmallow ice cream in the afternoon sunlight. Happy birthday to me!