A Sunshiny Baby Shower
7:00 AM
Remember me talking about not stressing out? That being good enough is good?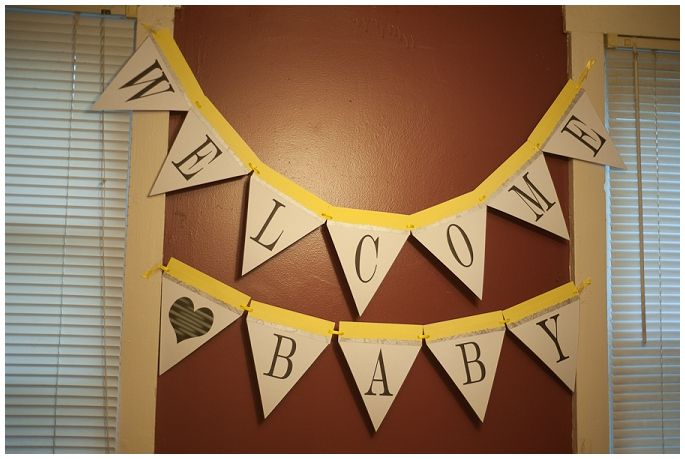 This is me sharing with you about a baby shower that I hosted for a friend. I LIKED hosting this baby shower alot. It was hard work (as is all hospitality), and time and effort, and alot of planning towards the end of a very busy month for me. But by the grace of God, I did it. I'm not being facetious when I talk about grace in the context of hosting a baby shower. I believe that grace is very real and very practical. Grace is God's power working in me and through me. And when God gives me grace to have 15 ladies in my tiny house without stressing (too much) about details and if I made enough food and if people will like it and if someone will forget and if everything will go well and if the guest of honor will love it... I call it the working of God in my life!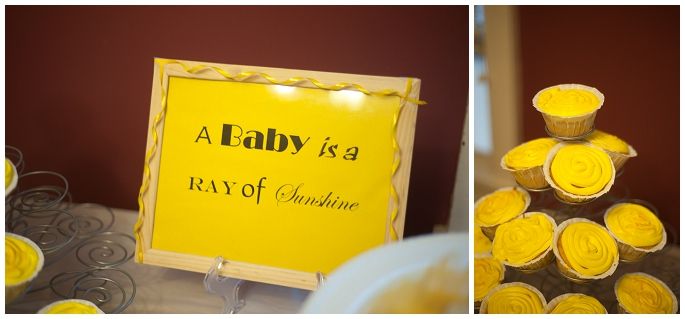 Theme: Sunshine (in case it wasn't obvious enough).
So this shower was in honor of my friend, Jess, and the arrival of baby #3. Now public opinions are divided on whether there should be showers for 2nd, 3rd and beyond babies, and you can probably tell that I'm wholeheartedly in favor of having showers for all babies (read: all expectant mamas). Because I think that ALL babies are precious. And I think that every baby deserves to be celebrated. And no, it's not about the gifts. Though personally, I think it's super-fun to bless others with gifts... and they don't even have to be expensive! Gifts can be handmade and inexpensive and still full of love (and super-appreciated).

I chose the sunshine theme because of how babies seem to spread sunshine around a room. Put almost any person near a baby and they can't help but smile! It's actually quite adorable to watch.
And another reason for the sunshine theme: when I was planning the shower, Jess & her husband were not going to find out the gender (though eventually the secret slipped and we knew that it is a BOY!).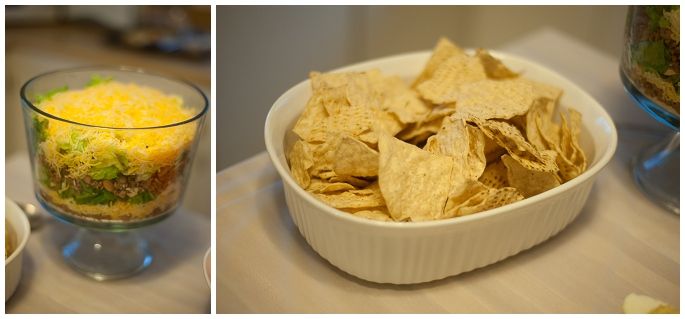 What a better way to keep theme-centric than by having lots of yellow food?!
The Menu:
Taco Dip Trifle (made especially by my sunshiny sis!).
Deviled Eggs (I think it's more spiritual to call them ANGEL EGGS.. hahahaha).
Sunshiny Fruit Pizza
Hello Dolly Bars
Lemon Bars
The Tower of Sunny Cupcakes!
Fizzy Lemonade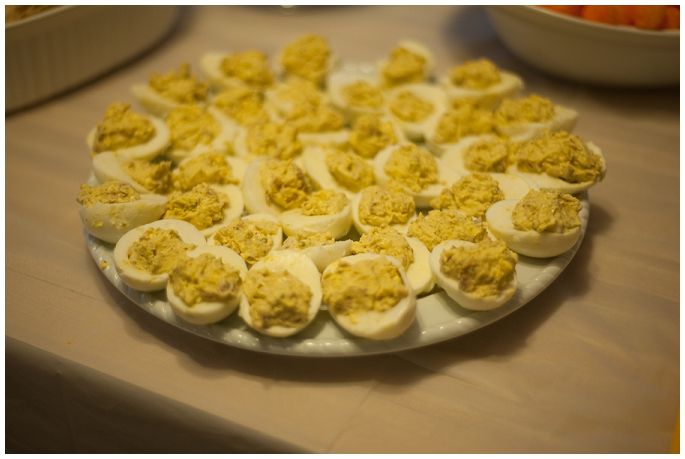 Yes, I definitely bought multi-colored straws and only used the yellow ones. :D


The decor was super-simple. A handmade crafted banner to welcome the baby (crafted by my sis). An amazing SUN poof crafted by another friend. I'm not crafty, so I rely on the talents of other people in that area. :D

Did you know that you can put sunshine in a bag? I did it. Lots of little Lemonheads candy for the ladies to take home. :D And Brandon might have eaten all the leftover Lemonheads.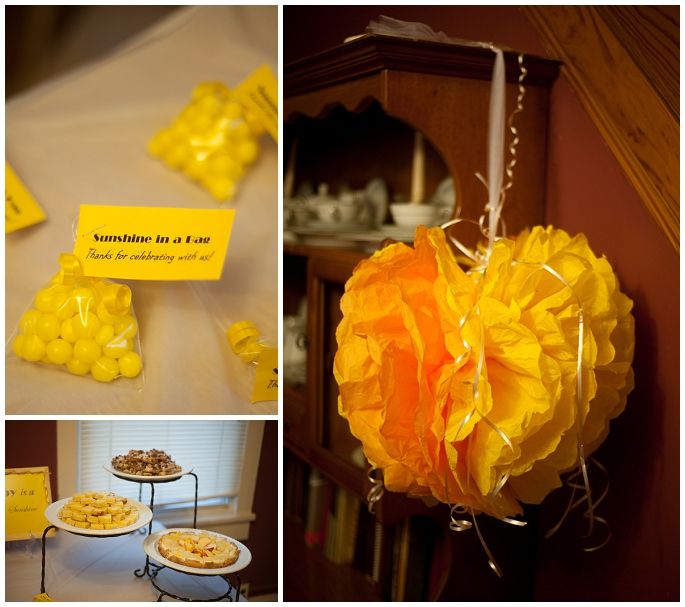 After eating and drinking, we all squeeezed into my tiny living room (you'd have to be there to understand what it feels like to put 15 people into a living room the size of a pocket) and chatted. Since it was a small group of church friends, I eschewed typical baby shower games for simply sharing with one another. We talked about the silly/happy/funny things that kids do to make us smile. And we talked about lessons that God has taught us, encouragement that we've been given and the hope that we have. It was refreshing. Like sunshine in the soul.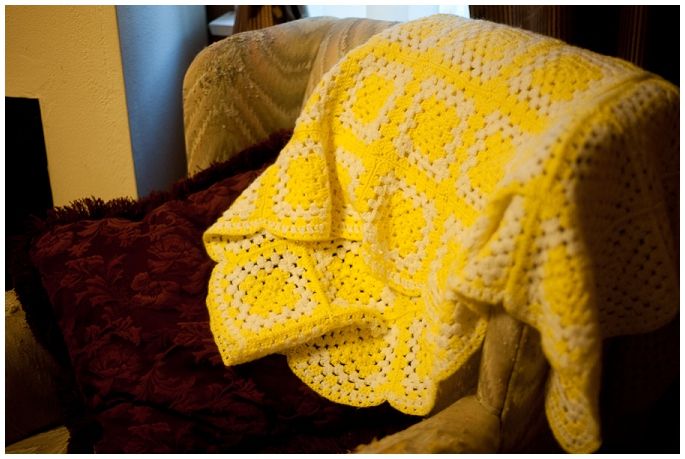 Hey look! It's Jess---our guest of honor! Doesn't she look radiant? And she's holding one of the hand-crafted gifts that a friend blessed her with!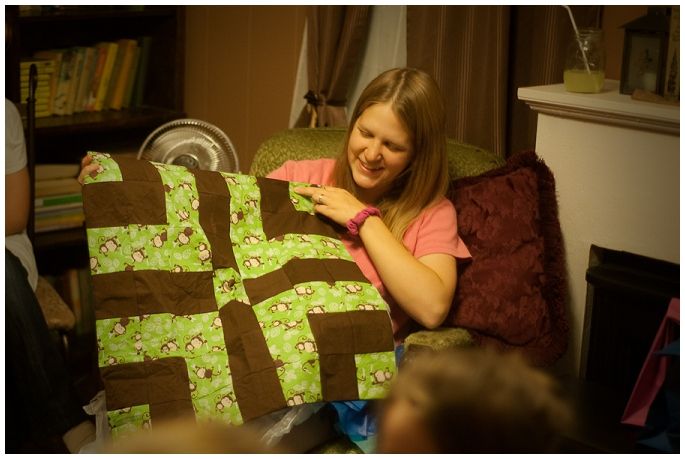 I loved hosting Jess' baby shower... and ya know what's even more awesome? Baby Asher was born only one week later. And yes, he's like a ray of sunshine!