Travel | Great Smoky Mountains Vaca
12:59 PM
Ya know what is amazing? Organization. I'm now a super-fan of organization. I have been overwhelmingly amazed by what I'm getting done in these weeks/months before baby comes. Things that I have been putting off for years and always brushed to the side because of priorities (*cough*overcommitment*cough*). Like changing my last name on my vehicle registration…. ummm.. after three years of marriage. Like looking into life insurance. Like organizing the personal financial files, so it's no longer a pile of papers on the desk. Like cleaning parts of my house that have not seen a scrub-brush since I bought it, oh, FIVE years ago. Basically, to summarize, this is a ridiculously-awesome-season of life. I just finished organizing my personal computer files into folders in "My Documents" instead of random shortcuts sprinkled across the screen. Organization makes my life so much better!!!!

One of my favorite pastimes lately is digital scrapbooking through Shutterfly. Taking pictures is fun and sharing them on social media is fun, too, but there's something very special about holding-seeing-touching those pictures combined with words as a personal journal of our family memories. So I've been spending some time organizing our family photos (I'm determined to take my photographic bent and apply it to our family life, instead of being the photographer who takes photos of everyone else & not their family). I've been gradually scrapbooking the years of our marriage and it's so fun!

My most recent "organization" brainstorm involved special travel scrapbooks. I was having a difficult time deciding how to organize our travels/family vacations. Should I attempt to just choose my favorite photos from a week of vacation and scrapbook them in a couple pages in our yearly scrapbook? If I did that, there wouldn't be room for the stories and little silly things that make vacation memories fun to read. Should I make entirely separate photo-books for vacations? But then, I wasn't sure I'd fill a whole big 12x12 photobook (my normal size for yearly family scrapbooks). And then, there's the whole saving-money thing. My brainstorm was this: I'd design vacation photo-books in the 8x8 photo book size and then whenever Shutterfly decides to offer a FREE 8x8 20-page photobook coupon code --- I'd order….

Wouldn't you know it? But not even a WEEK after I had this brilliant brainstorm, I had finished a little photo-book of this Smoky Mountains vacation that we took in the beginning of May and then, there popped up a FREE coupon code! (For the Shutterfly fans, the coupon code is still valid for a few more days! Check it out!). My photo book is on its way, just for the cost of shipping…. I'M SO EXCITED.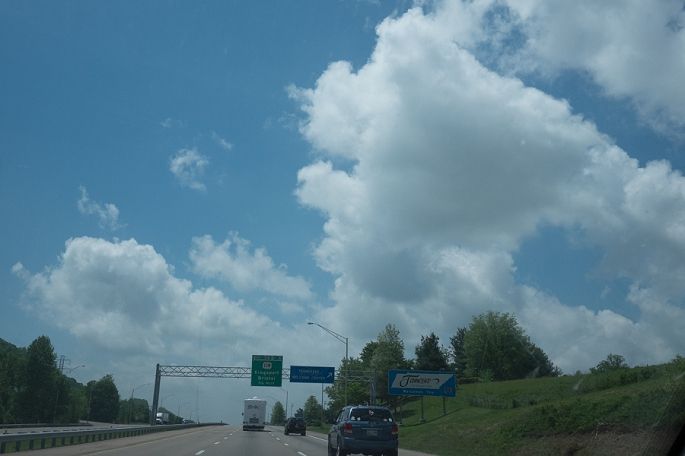 In the meantime, don't you wanna know how our Smoky Mountain vaca went?

So there are LOTS of photos in this post. Keep in mind that we were travelling from Pennsylvania to Arkansas for Brandon's summer internship, so aside from packing our car full of everything we needed for the summer, we also packed for vacation… and stopped in Gatlinburg, TN, for a week of rest-and-relaxation.

We got to Tennessee on my very first Mother's Day (at that time, I was 14 weeks pregnant! Seems so long ago now!), so my request was a milkshake. We couldn't find one, so we settled for a frappucino. I was happy! (though I look tired in this picture… not sure why? Maybe just travelling tiredness) :)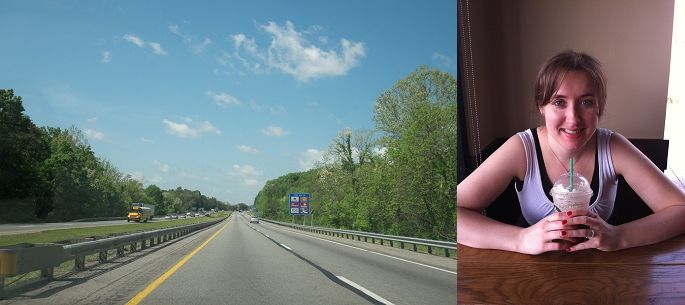 We love using Homeaway to find vacation rentals. They are generally cheaper and more well-equipped than hotels, and since we LOVE quiet, privacy and the ability to make some meals in our vacation home (to save money & because restaurant food is often not-very-healthy, so we limit that), it's a perfect option.


We found a one bedroom condo up on a mountain above Gatlinburg, with spectacular balcony views!


When we arrived, Brandon was incredulous: "How do you FIND these places?!?" That made me very happy! I'm the travel planner and researcher of the family, and so I love to get a winning vaca rental like this one. Makes my little soul rejoice!

I was especially enthralled with the living room's window-seat. I spent quite a few hours there reading, thinking and napping over the course of the week….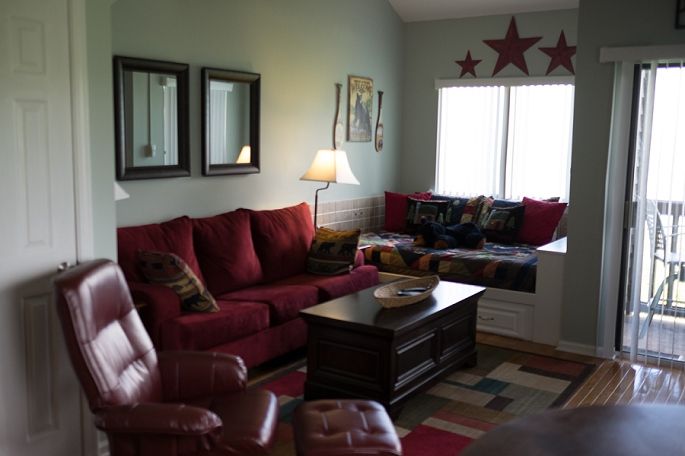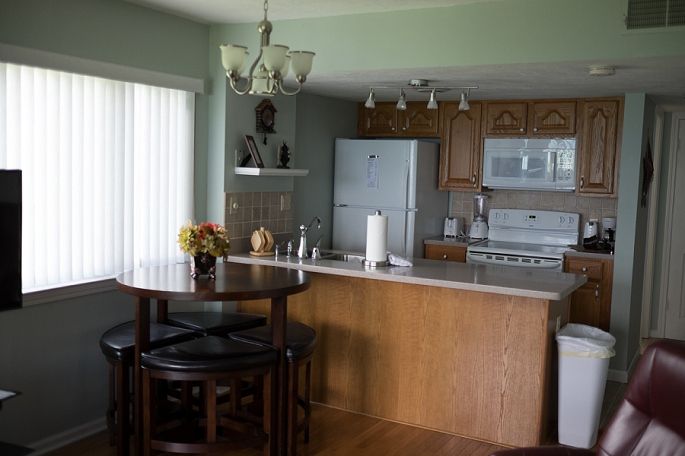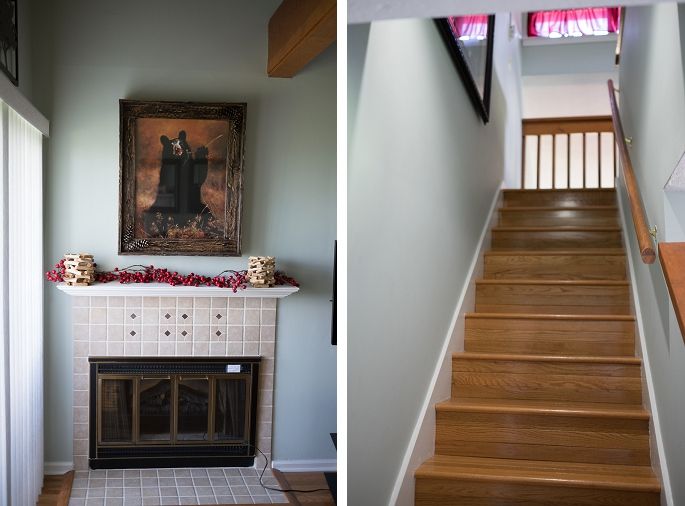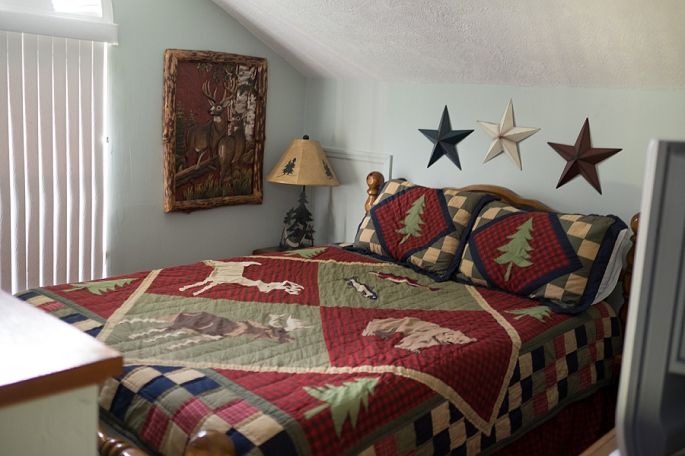 Some of our favorite moments were enjoying the beautiful sunrises with coffee in hand, wrapped in blankets on the balcony.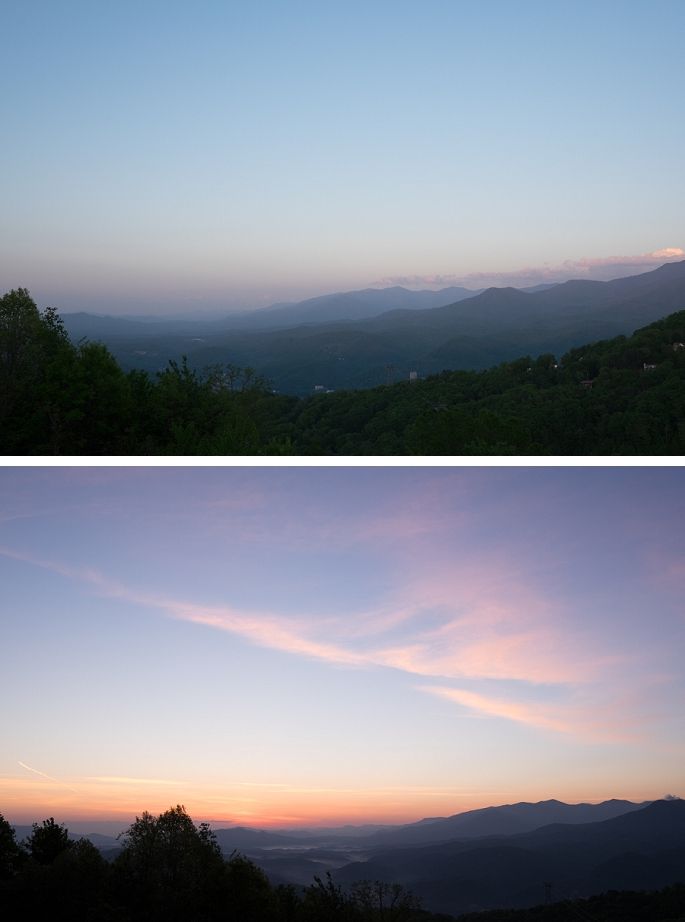 While I call this a vacation, it was actually more like a half-vacation. Brandon was still working twenty hours per week remotely (and he continued to do that over the summer in addition to his full-time internship). We considered it a necessary sacrifice, because vacations are a luxury item. I just used the time that he was working to read or journal or think or plan.. or nap, because pregnant women need more sleep. It's a proven fact. :P Also, combined with the rainy May weather and us coming off a very exhausting spring college semester schedule, we welcomed the extra time in our little condo for resting.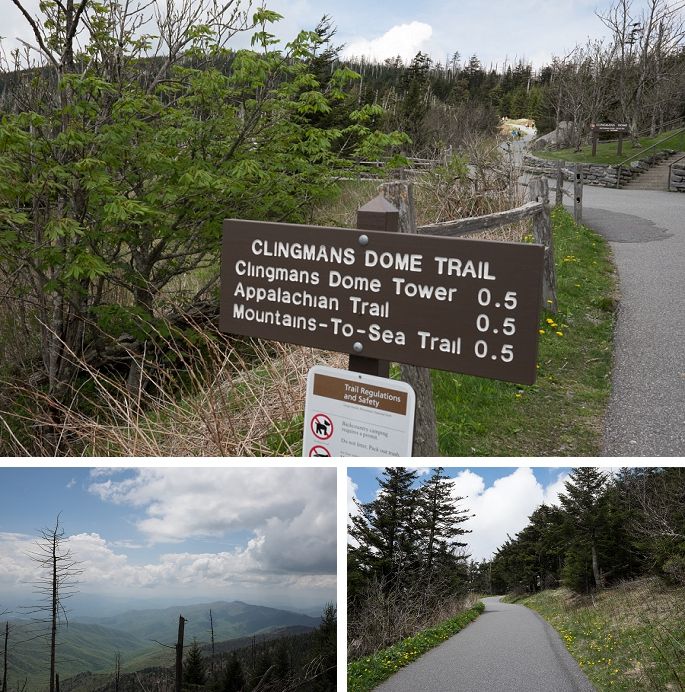 When we *did* leave our little condo, it was for hiking!! This was a tiny little (popular) trail up to Clingman's Dome, the highest point in the park. With views in all directions, it was definitely worth the long drive and exhausting walk to the top. This is the walk where I figured out that I really wasn't in very good shape (it motivated us to work out almost daily over the summer! Nobody likes being out-of-shape!).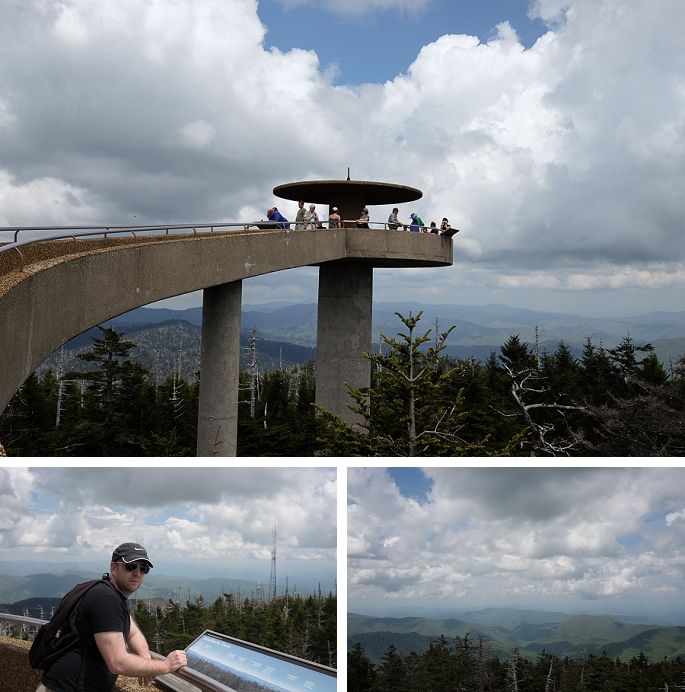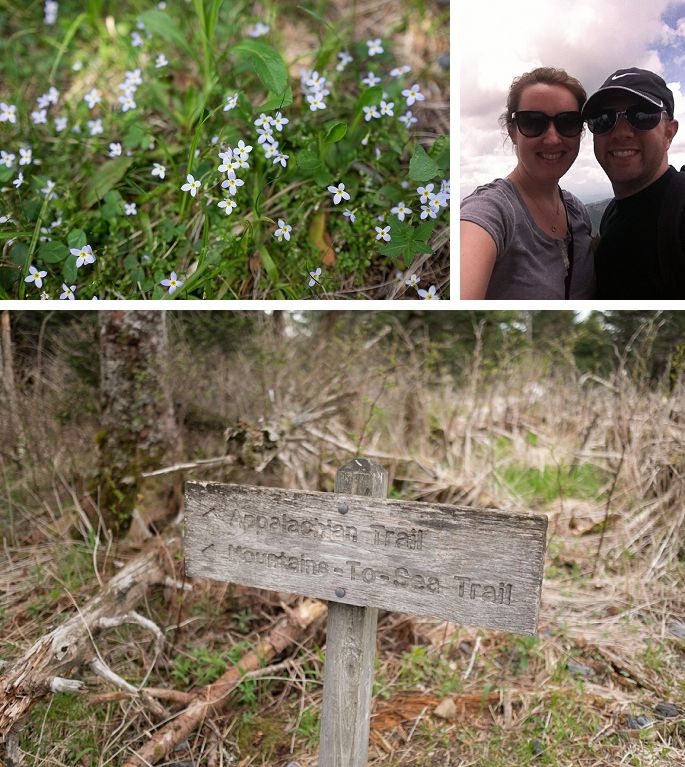 When we weren't hiking…. I was looking at maps. It's a family problem. My family loooooooves maps. My dad loves maps, especially hiking trails maps. Especially hiking trails in the Great Smoky mountains! One of my favorite parts about travelling to the Great Smokies is that I have so many childhood memories there. On family road trips, we tended to stop in the Smoky Mountains once a year or so, on our way to or from Texas or the national swimming pool show (our family vacations were often combined with Dad's business travel, because we were homeschooled and we could do that!).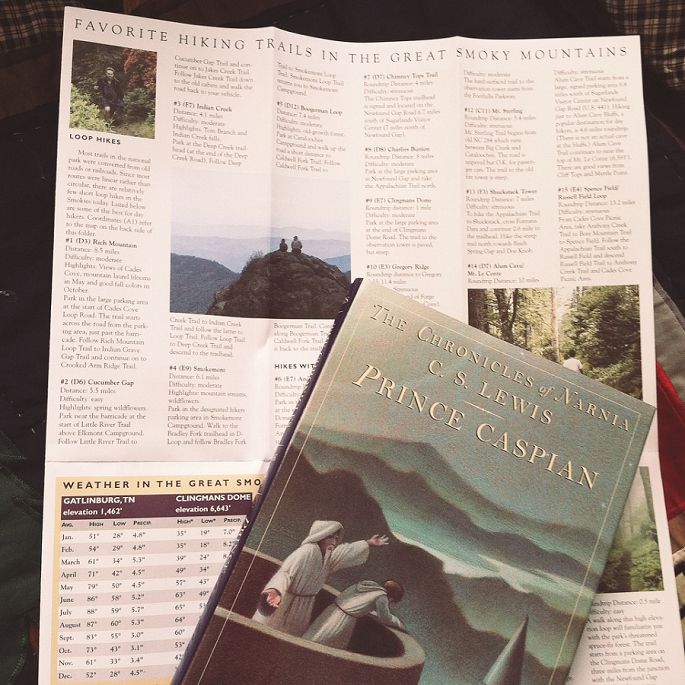 Our second hike involved waterfalls!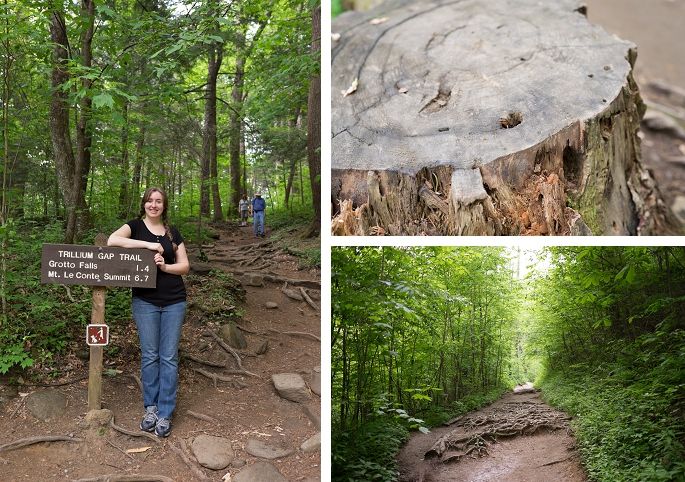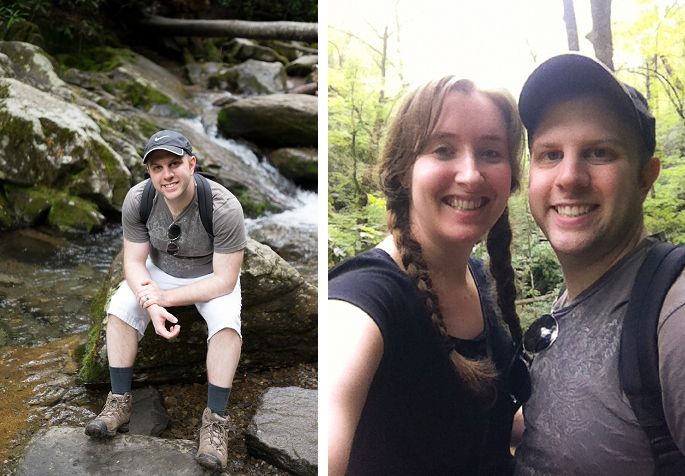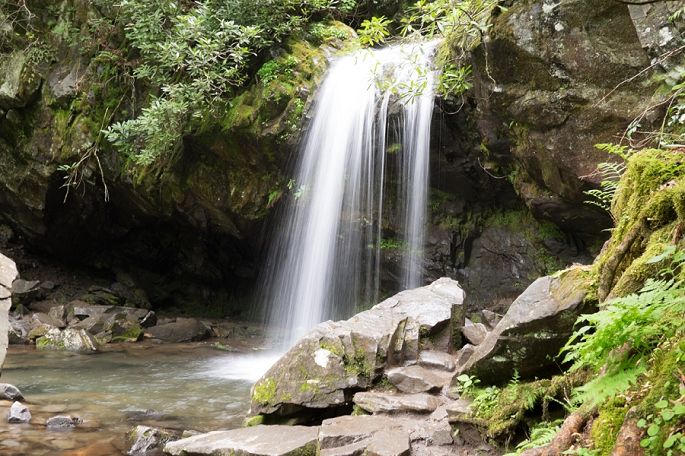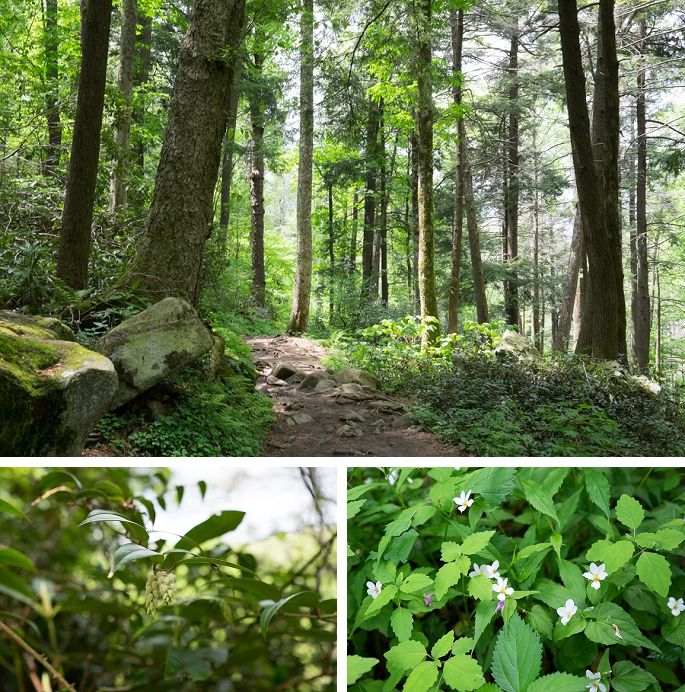 So did you know that May is allergy season in Tennessee? Did you know that my husband is allergic to something in ragweed? Keeping those things in mind, let me tell you about the scenic drive that we went on. One of my favorite places in the national park is a scenic loop road called "Cades Cove." Sometimes the whole road is closed so that only bicyclists can enjoy the scenery without cars. We sadly decided *not* to bring our bicycles (not enough room in the car), so we did the driving tour…

I brought along the camera (of course) and the tripod to snap a few pretty photos of us together…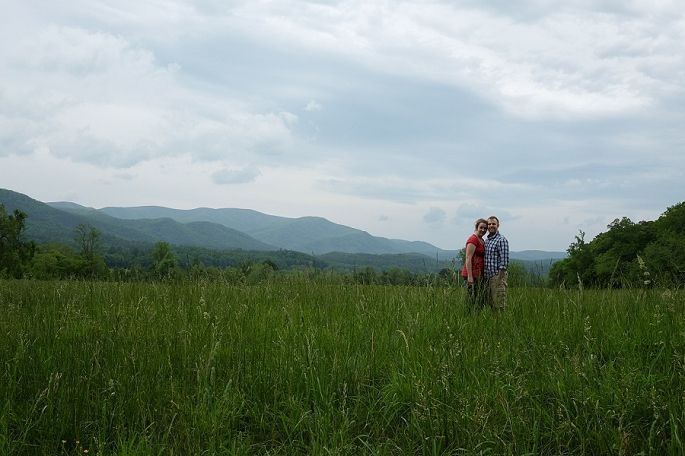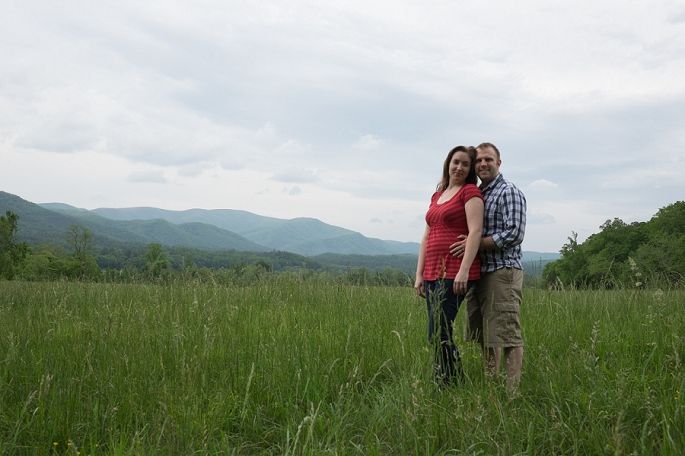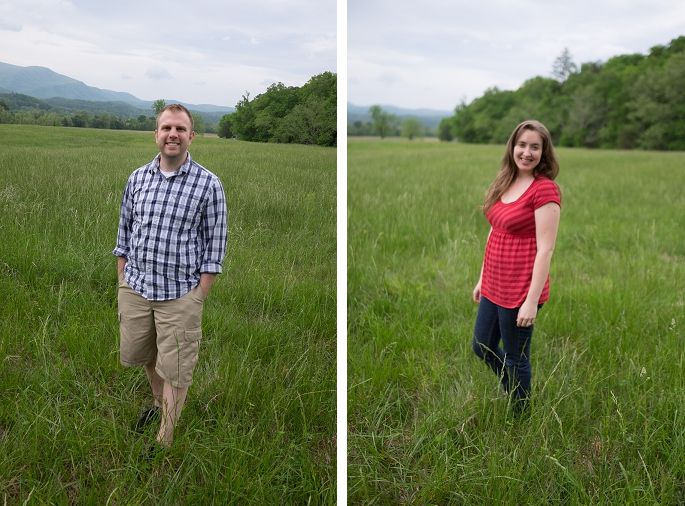 And then poor Brandon started sniffling and sneezing something FIERCE, and I figured it out. We were standing in a field full of grasses and ragweed… Oops. Good thing the rest of the scenic drive could be enjoyed from the car. I jumped out to take a few pictures, but mostly we kept the windows closed and counted wildlife sightings from the car.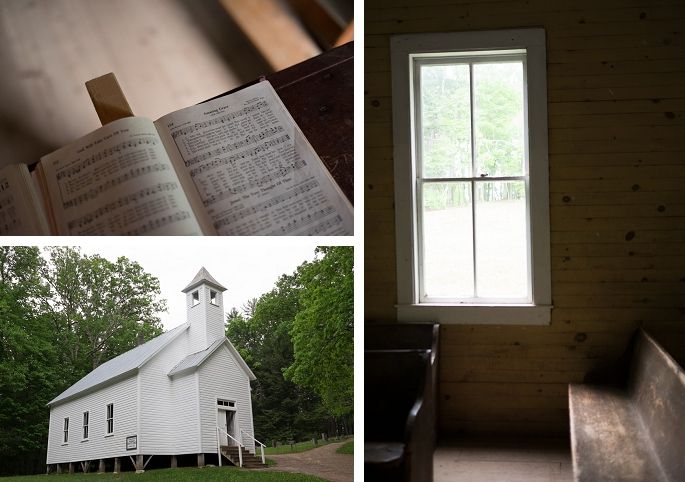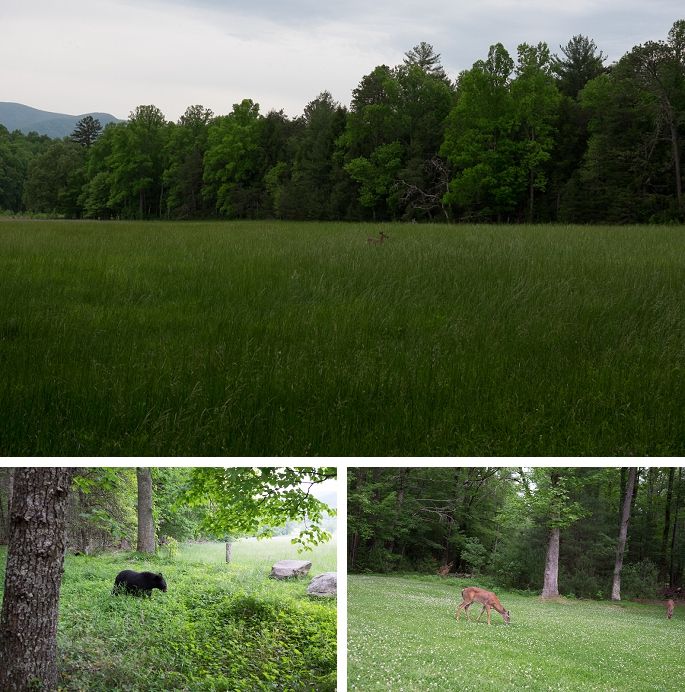 Just to illustrate how close we were to the wildlife… that's our open car door.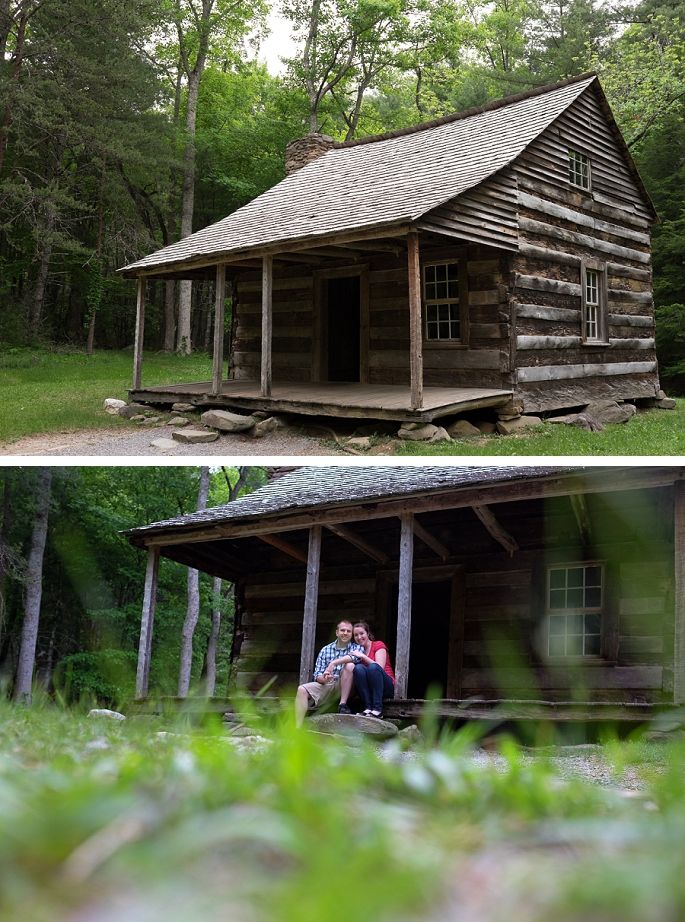 As a great happy ending to my story about allergies, Brandon recovered quickly after I stopped making him breathe near fields of grass. And we closed our scenic drive with the most delicious BBQ meal possible! And there were hush puppies! I love them!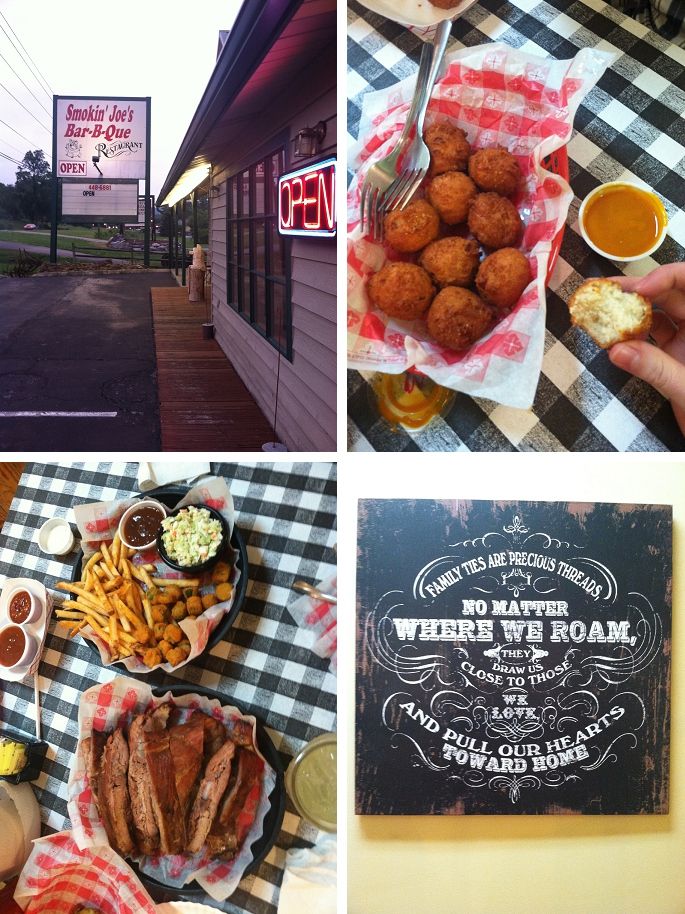 Rainy days abounded during our vacation. I can't say that I minded sitting on the window seat in our condo and listening to the raindrops fall down the windows. When the fog rolls in over the mountains, there is a certain aura of mystery that is strikingly beautiful.

The rain meant that our plan to conquer Mount LeConte (and see the pack llamas!) was nixed. We're just not hardcore hikers with rain gear. Instead we browsed through the visitors center, staring at stuffed dead animals, reading signs, buying postcards, watching the informational documentary… where we learned that the Smoky Mountains are considered a 'temperate rain forest.' Considering the torrential downpour that halted our last attempt at hiking… we believe that!


And then we came home and ate s'mores. Why not? It's vacation. :D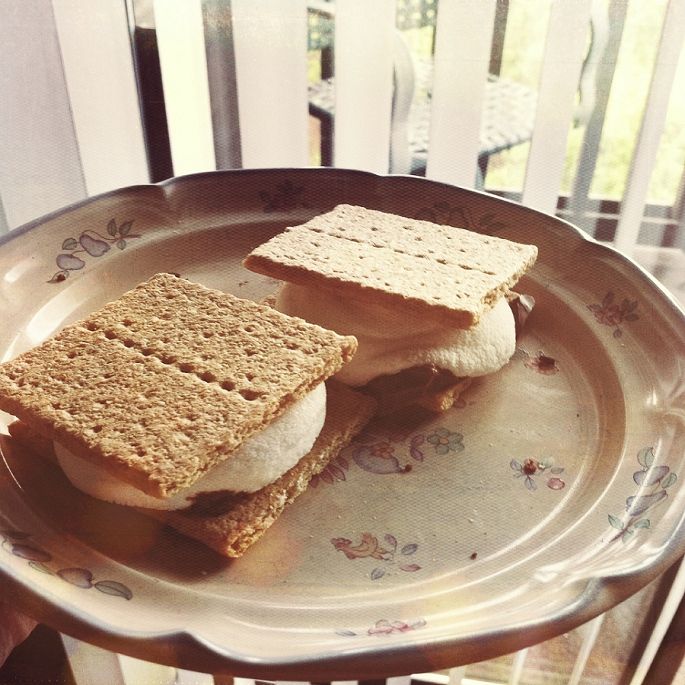 The other parts of our vacation included eating too-expensive-but-still-delightful pizza in Gatlinburg, walking around the little town streets, a pancake breakfast, viewing Thomas Kinkade paintings together, finding a redbox to rent movies (finally saw Frozen! and a more somber-but-still-great movie – The Book Thief! and a few more oldies-but-goodies).

I still think that my favorite part of vacation is being able to spend 24 hours a day with my husband. I married him 'cause I loooooove him… and truly enjoy our time together. Our conversation, our silence, our seriousness, our sillyness, our work and our play. Marriage is wonderful. :)

Here are a few last mountain views! I hope you enjoyed seeing our vacation, just as much as I enjoyed sharing it!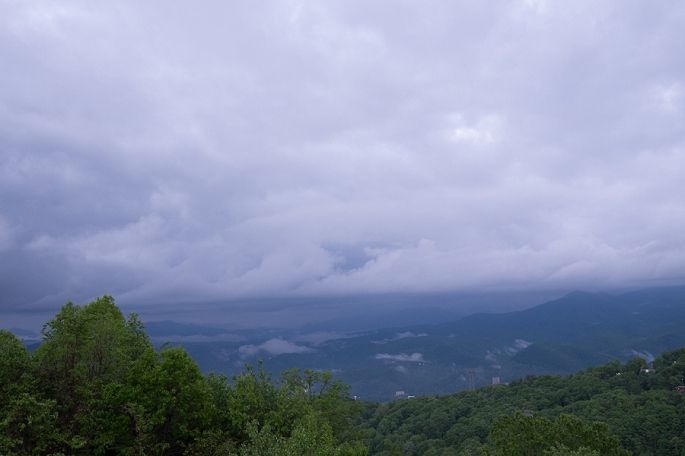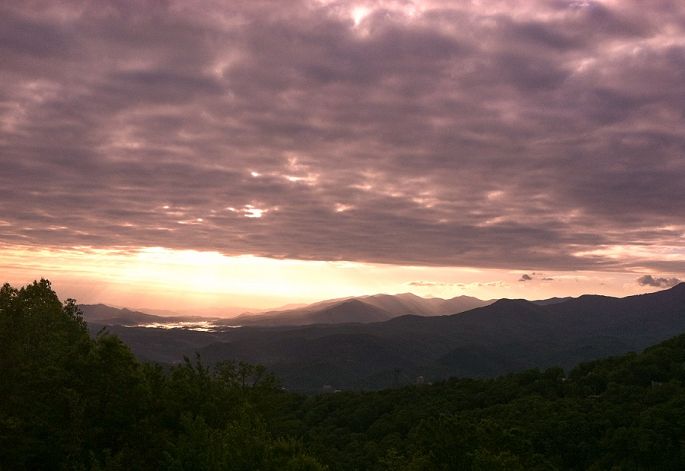 Little balcony, we will miss you.