Weekend in Review | Canoes & Planet Earth
11:52 AM
I recently read a trails blog entitled, "Five Reasons to NOT Hike in Arkansas in the Summertime." Those reasons included ticks, chiggers, poison ivy, snakes and heat exhaustion. So I gotta say, this is not encouraging me to go outside here in the Natural State… Then Brandon came home one day and mentioned a coworker's comment about tarantulas and scorpions. I'm like, WHAT ARE WE DOING HERE?!.. Just kidding. Kinda.


After Brandon finished his "second job" work (he works remotely for his PA company for about 20 hours a week, so that means he's finishing that up late Friday night and Saturday morning before we get to do fun stuff!), we decided to brave the scary outdoors and do what we've been talking about for a month: CANOEING! :D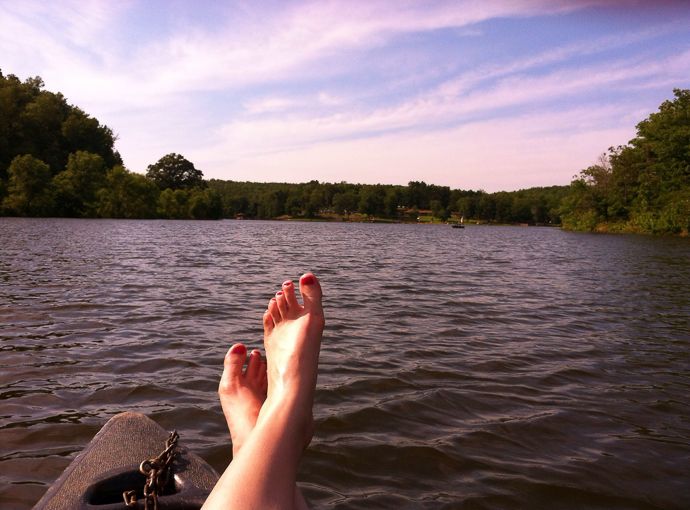 The weather was beeeee-you-ti-ful. 86 degrees and breezy, to be more precise. It was just warm enough that being out on the lake was refreshing. We paddled (errr, Brandon paddled most of the time) and floated and watched the rippling water. We talked and laughed and enjoyed the silence --- which was sometimes interrupted by my buzzing cell phone. Now before you judge my technology in nature, I was getting regular progress updates on the soon-arrival of my new nephew. So whenever my phone would buzz, I'm like, AHH! BABY!


Guardian Michael arrived at 7:57 pm (Pennsylvania time) and according to the pictures, is quite the little cutie (including the camo hat that someone put on his head)…. That made me laugh. While I wasn't quite old enough when my little brother was born to remember his newborn squishyness, my sis thinks Guardian looks like him, so that's cool. Though his little dark eyes and hair could be both his mommy and daddy. I would take a moment to whine about my nephew being in Pennsylvania and me being in Arkansas, but who am I to whine about the provision of God in my life that leads me here… and besides, it seems like just a #firstworldproblems thing to whine about. That's not to say I'm not looking forward to squishing his cute lil cheeks and introducing him to Auntie Nomi & Unca B'andon. In a few months. Just a few months. :)

The rest of our Saturday included gym-going. We've been pretty consistent on gym-going for the last four weeks. It's hard to not be when it is literally a block away. We walk to the gym, except during torrential downpours. Also, I like to joke with Brandon that I. Just. Don't. UNDERSTAND. why we are both working out and he's getting skinnier and I'm getting rounder… with a wide-eyed innocent look on my face. I mean, two words. Baby Belly. (insert tiny pregnancy update here: 19 weeks pregnant, hungry ALL the time and happy-happy-happy).

Somewhere around 8:30 p.m., our downstairs neighbors started to have a birthday party. Not a cute little kids party--- oh no, this was the kind of party where they are outside chanting, "BIRTHDAY SHOTS! BIRTHDAY SHOTS!" Which tells me two things: they are probably not old enough to be drinking anyway, and tonight is about to get super-annoying. So we did the mature thing --- and went to Walmart to stare at the $5 movie bin for an hour, in which we decided that movies are stupid. :) Ended up with the coolest documentary ever called Planet Earth. All about the amazing earth. It's like 9 hours long, so we watched an hour and went to bed. What? Sleep is good!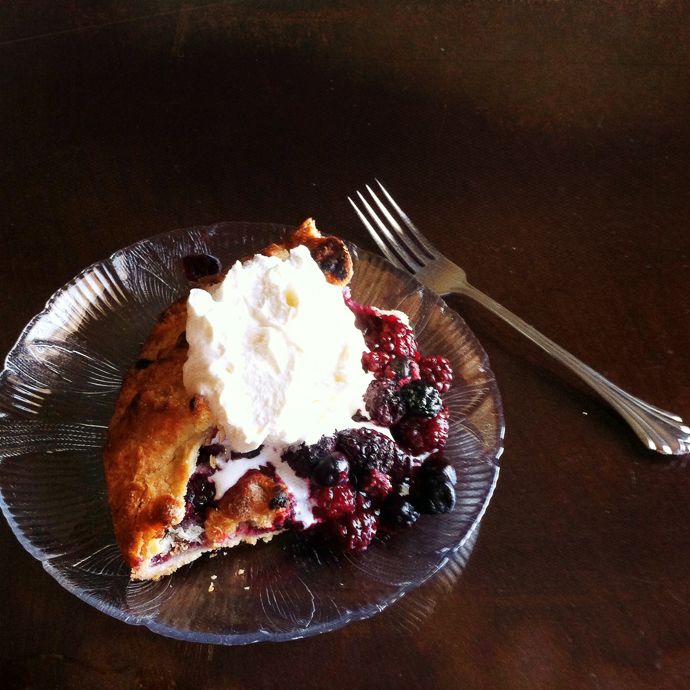 Happy Father's Day to Brandon!

Isn't this triple berry galette the most delicious thing you've seen? My mouth is watering just looking at it again. I used this recipe for the galette, a.k.a. rustic tart. Because temporary apartments do not stock pie pans or rolling pins, much to my chagrin.

My inner conflict about Father's Day is that people don't know whether to say Happy Father's Day to an expectant father or that he will be celebrating Father's Day in the future. Since we believe that life begins at conception, it's a pretty clear thing to me. So hence, my wonderful dessert-making. Baking for my husband is definitely one of my favorite things to do. He's just so darn appreciative and complimentary…. And I like being able to eat homemade dessert, too. WIN WIN.

And that is my turbo-fast weekend in review.

What did you do this weekend?