One Hour Yeast Bread
11:59 AM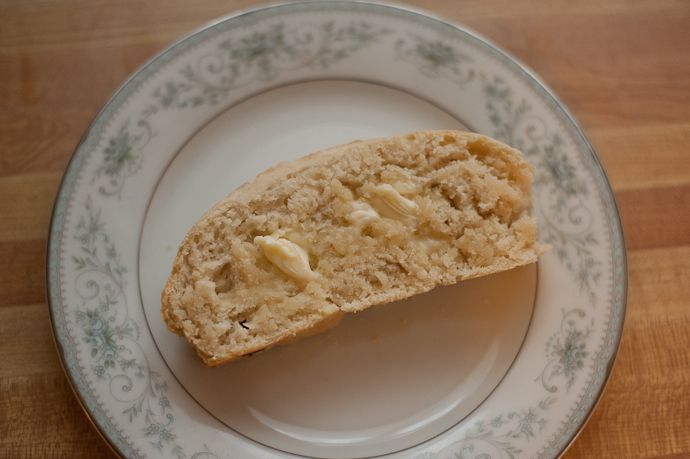 I love bread. Really, really love bread. I love bread a little less than I love chocolate and cheese and a little more than just about every other food. Brandon and I have decided that we're probably French, considering that we would like to eat only chocolate, cheese and bread (preferably the buttery variety--croissants are perfect!). And Nutella. How can I forget Nutella?! (PS - We're not really French. Try an almost full-blooded German [me] and an Italian/German mix [Brandon]).

I'm happy with biscuits and muffins simply because they're quick! But I reeeeeally get happy when bread is yeasty and delicious. When a friend shared this recipe for one hour yeast bread, I was amazed. In awe. I rediscovered this recipe last weekend when cooking a yummy steak dinner that needed some yeast bread accompaniment. I realized that I only spend about 10 minutes doing hands-on prep for this recipe, and the rest of the hour the dough is rising or baking. You just can't beat that!

One Hour Yeast Bread
Add yeast and then sprinkle the sugar over the 2 1/2 cups of water. Let it sit for about five minutes until you see the yeast get all bubbly on top. Stir in the salt, oil, and flour. Knead the dough for a few minutes until it is smooth and pulls away from the bowl. Then cover your bowl with a warm wet towel and let the dough sit for about 15 minutes. Wonderful tip!
Turn your microwave on for two minutes and set your bowl of

bread

dough in the warm microwave for the 15 minutes.
This warm environment makes the
bread
rise a lot faster. After 15 minutes, divide the dough into two long loaves (rolling like a jelly roll and tucking in the ends). Place both loaves side by side on a greased cookie sheet. Then take a knife and slash the tops of each loaf diagonally. Allow the loaves to sit for a few minutes while you preheat your oven to 375. Bake for 30-35 minutes until golden brown. For a soft & buttery crust, rub the crust with butter immediately after baking. For an extra cruchy crust, mix together one egg white with 1 T. cold water and brush on cooked
bread
and cook for another 3 minutes.
Yield: 2 Loaves (and if you're like us, eat one loaf and share the other one with a friend!). :)