Autumn Weekend Away
6:00 AM
You could call this a "babymoon," I suppose. It's more like I'm starting to realize the imminent arrival of our first baby and how life is going to change. How we will be three, not just two (the cat does not count). How our considerations, limitations, focus and directions will change. How---though we might carry the babe around us, we won't be quite as willing to 'rough it' or go rustic or experience cold and dampness and outdoorsy things… at least for the first few months.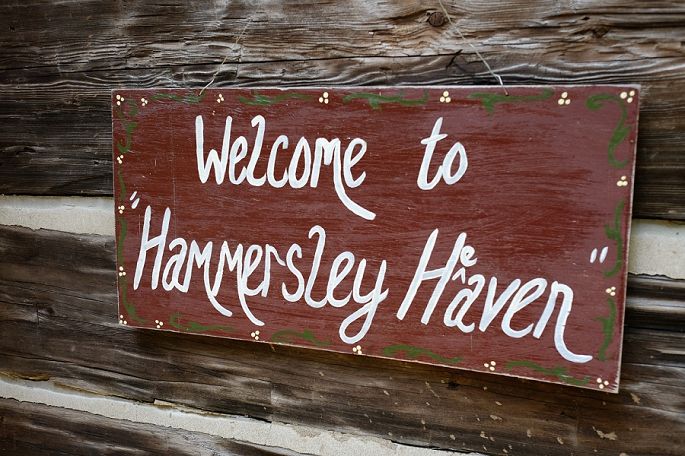 So we decided on one last autumn weekend away!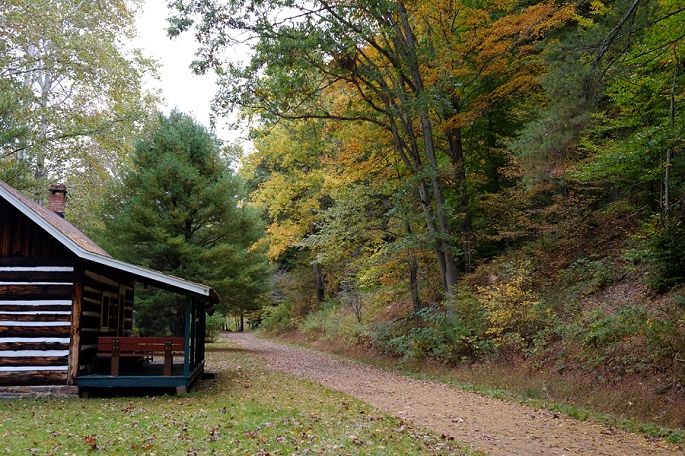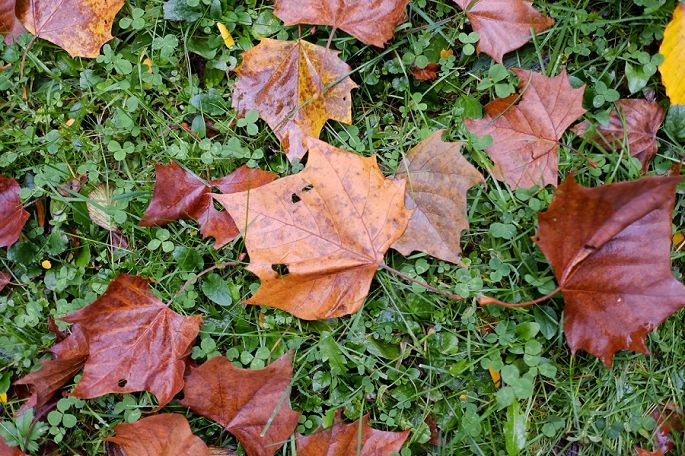 We took a long weekend, drove an hour or so into the Pennsylvania Wilds, to spend time at a rustic cabin that we (and other family) have a membership with. In a spontaneous turn of events, my adventurous parents decided to bike 35 miles on the Pine Creek Trail (because they're crazy) and ended up being in the area so they stayed the first night at the cabin with us. It was great because a) we like them, and b) my dad has great fire-building skills so our Friday evening was warm and toasty and filled with s'mores. After a scrumptious breakfast together Saturday morning, they went off to have more adventures (no more bike rides though... that I know of!).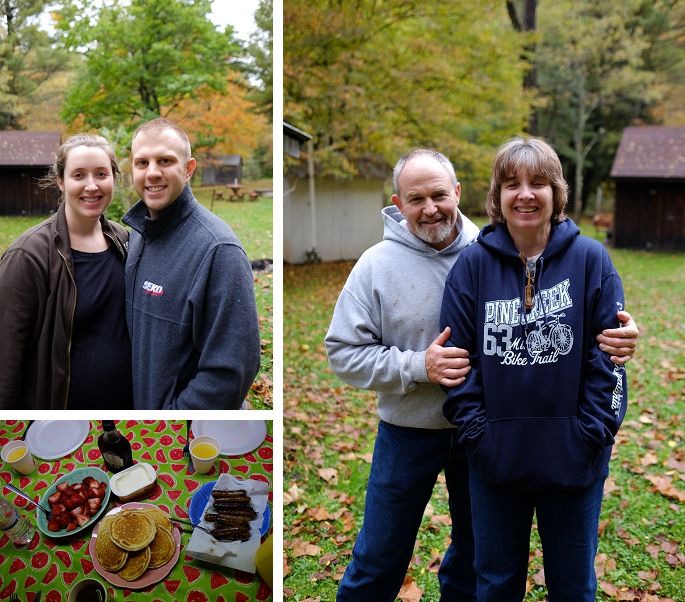 There's just something wonderful about the slow, simple pace of cabin life. We settled in for a full weekend of reading, coffee-drinking on the porch, sitting by the fire and admiring the fall foliage. Since Brandon is a college student (and grad school is time-consuming), he cracked the books all day long on Saturday… but I didn't mind. It was a good excuse to wrap up in an afghan, and burn through a few fun books.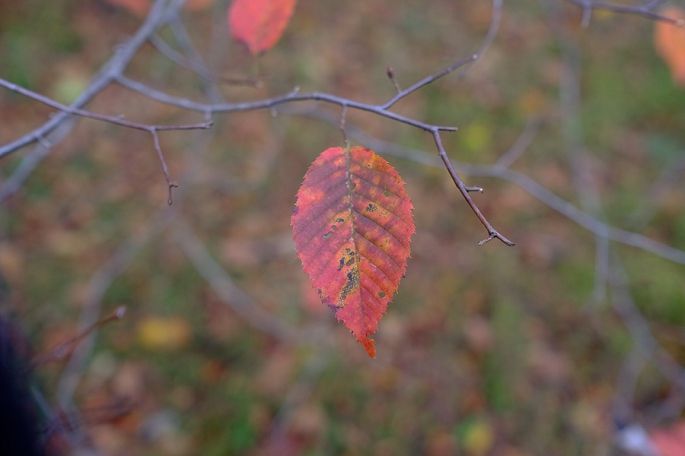 I also crunched around in the leaves to take a few photos of Autumn in all its glory. Nature teaches me wonderful things about God. I've been deep in the minor prophets in my Bible reading lately, and the vivid imagery that the prophets use has opened my eyes to the greatness of God.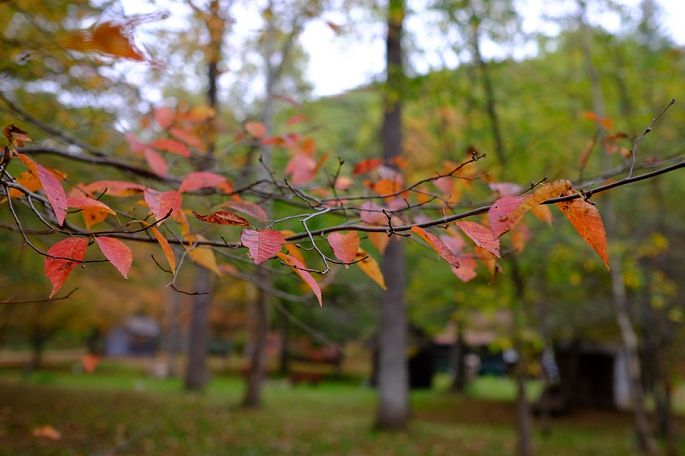 I remember reading about God's cathedral and loving the concept. That every time I step outside, I am overwhelmed in a way that I have never been overwhelmed in a church building. Our God is bigger than our comprehension and the work of His hands is both intricate and astounding.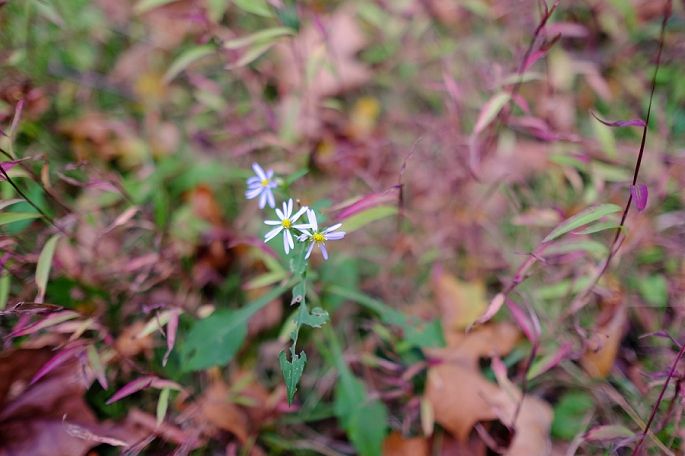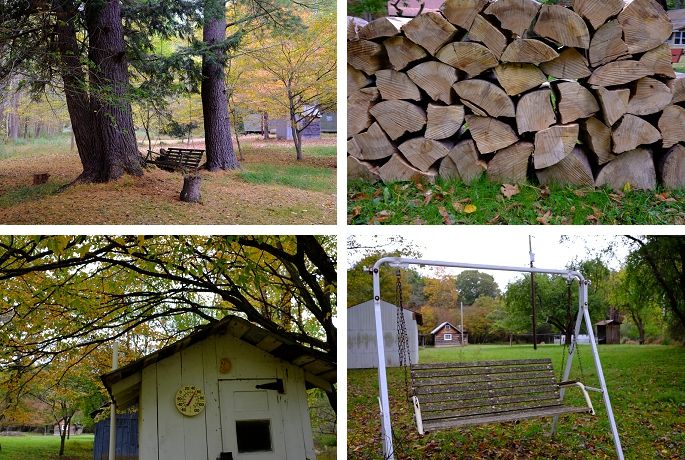 The autumn views called to us and we went out for an afternoon drive!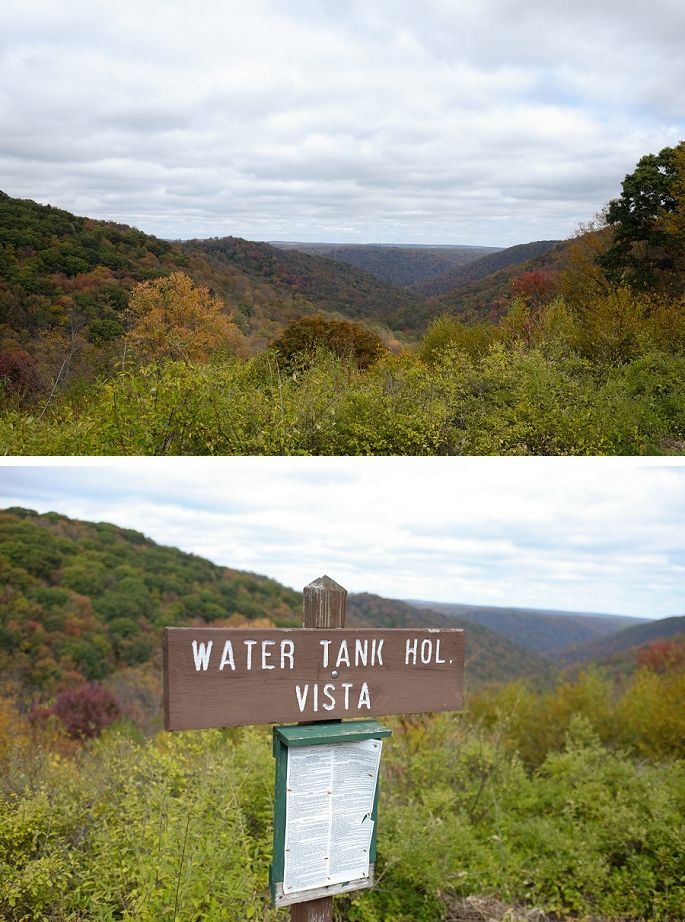 We missed the "Falling Leaf Festival" in small-town Pennsylvania, but still enjoyed strolling around town. Though my nose was pretty cold. It was not even forty degrees! It's almost ridiculous how much the weather changes from region to region in Pennsylvania. I wasn't quite prepared for that kind of cold!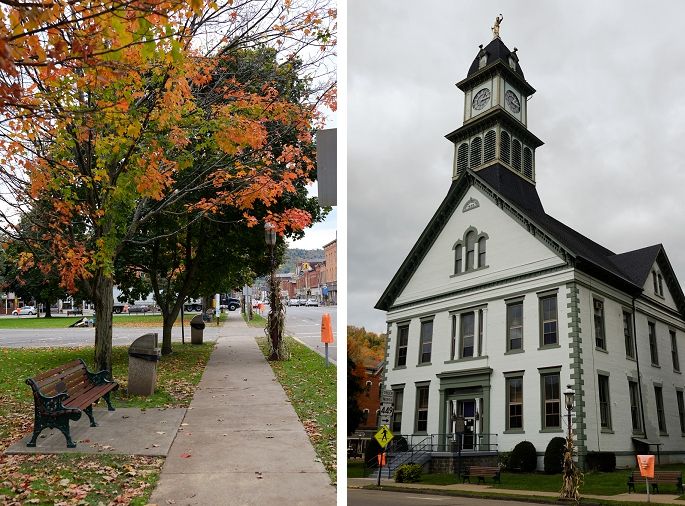 The river runs through the town, and a very sad-looking abandoned Victorian home.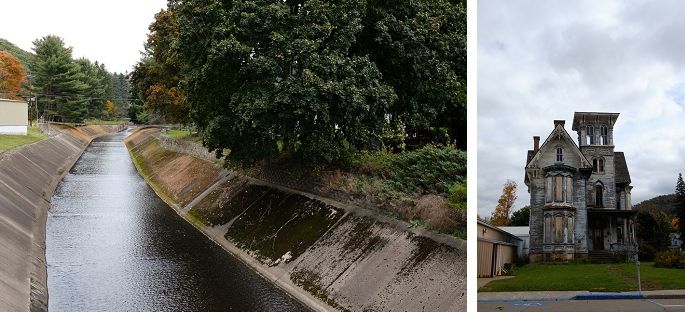 Here I am at 35 weeks pregnant! Baby coming soon!
I was a big fan of this gate. Such interesting ironwork.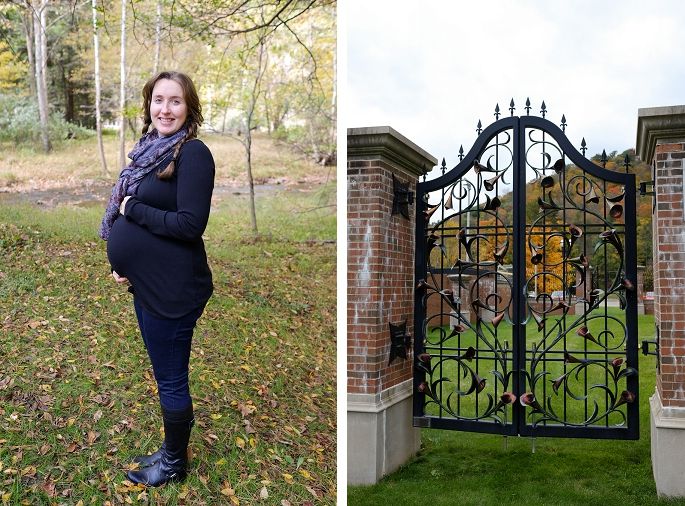 It didn't take long for us to get cold, enjoy the pretty drive back to the cabin and for Brandon to build us a roaring fire for our camping-esque dinnertime. Brandon's getting pretty skilled at this whole fire thing. I am grateful --- I love fires. :)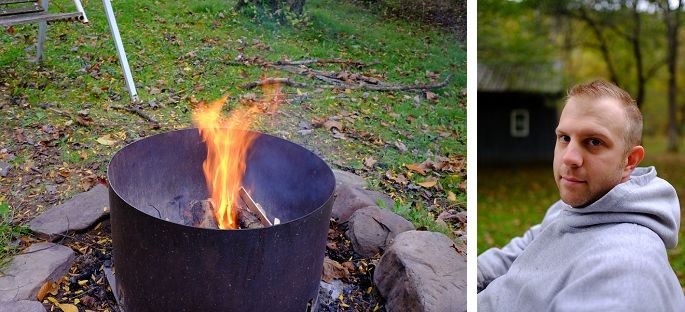 Mountain pie making! Pizza flavor. YUM!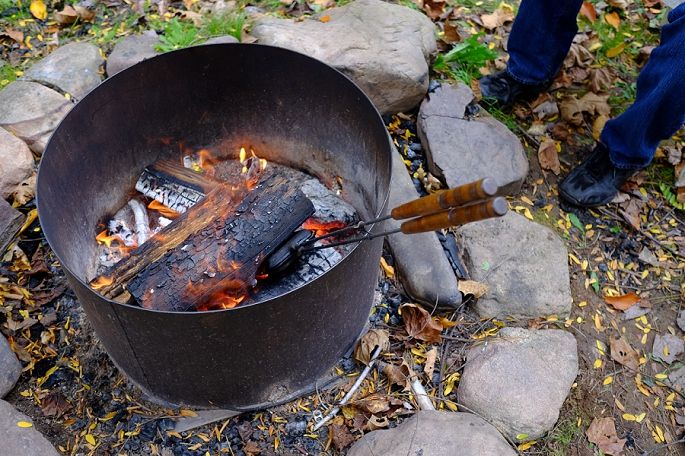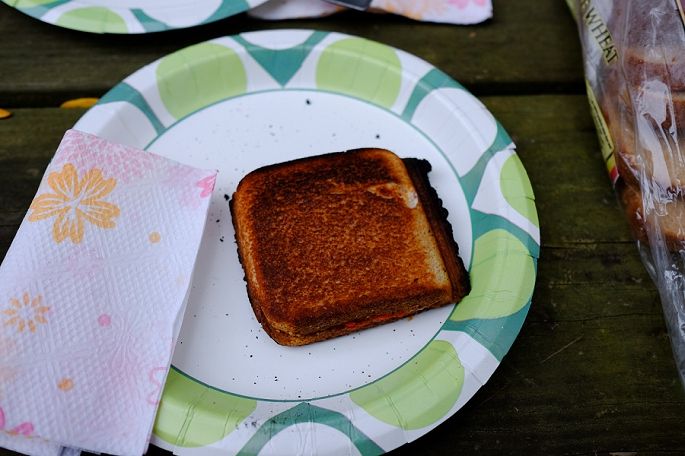 I had heard about a new campfire dessert called "doughboys" from my sis. Thawed frozen bread dough, wrapped around toasting sticks, roasted over the fire, with butter melted over and cinnamon-sugar on top. Our review on the concept: ''ohmygoshthesearesogood,canyoumakemeanotherone?!?!"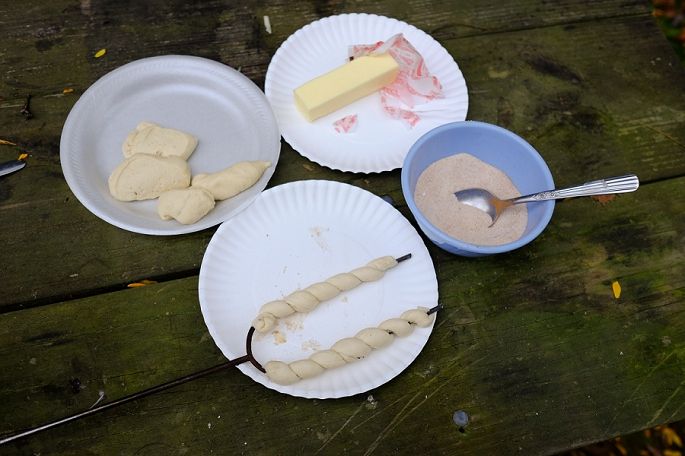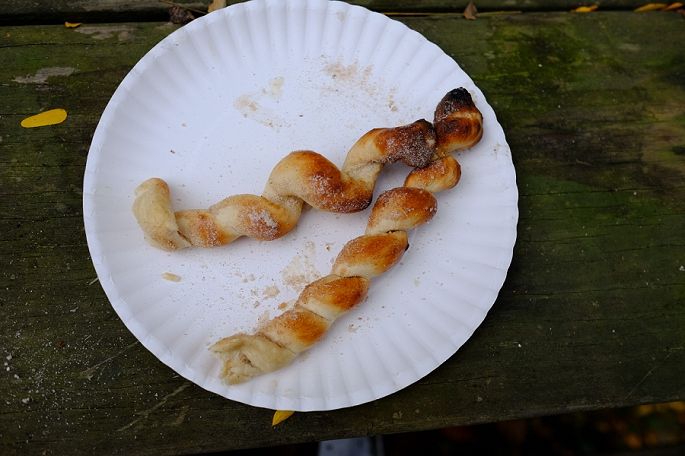 Before we knew it, time had passed so slowly and enjoyably… and quickly (at the same time!), and our autumn weekend away needed to come to a close. Here is one last look: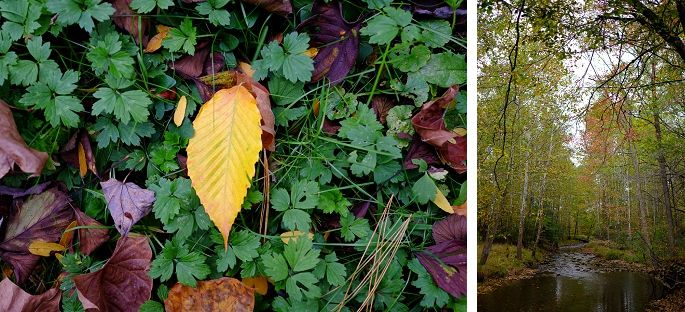 Even the drive home was lovely.
Goodbye, little cabin. Next time there will be more of us. :)