My Favorite Mediterranean Salad
6:00 AM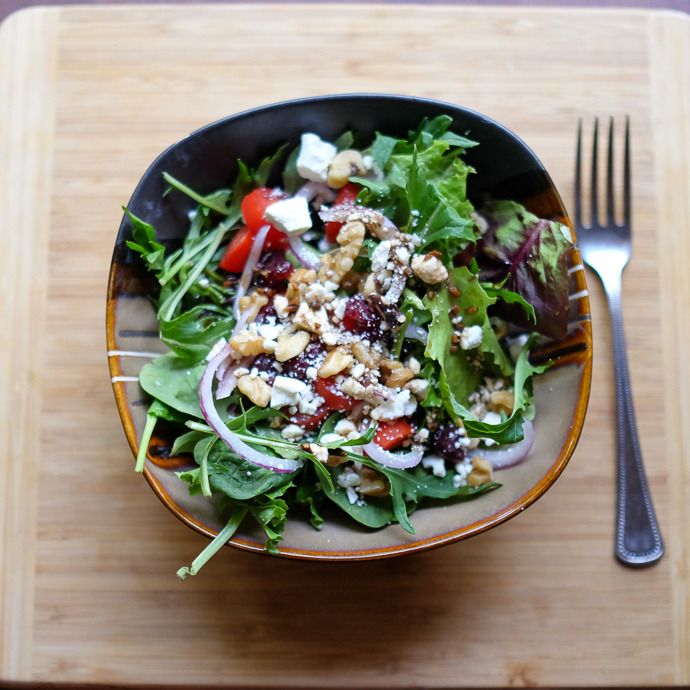 During the last few weeks, we have been delving into the wonders of Mediterranean-style eating. This particular style of cooking/eating/etc. includes some things that we already eat alot of (olive oil! garlic!) and some things that we really want to incorporate more into our daily habits (seafood! lots and lots of fresh fruits and vegetables!).

I am really, really enjoying trying new recipes. I have resolved to just make recipes that sound interesting, without pre-judging whether or not there are ingredients that I don't care for. A primary example would be raw tomatoes. I have never been a fan of raw tomatoes. And yet, they pop up in many Mediterranean dishes and... to my surprise, I don't hate them.

This recipe has turned out to be a super-duper favorite!

Mediterranean Mixed Greens
Adapted from The Complete Mediterranean Diet
Makes 4-6 servings*

6 cups assorted fresh mixed greens (I use something called "spring mix" with lots of arugula, and yes, you can get it at Walmart)
1 small red onion, thinly sliced and separated into rings
20 firm cherry tomatoes, halved or sliced
1/4 cup chopped walnuts
1/4 cup dried cranberries
Crumbled fetal cheese

For Dressing:
2 tablespoons balsamic vinegar
4 tablespoons extra-virgin olive oil
1 tablespoon water
1/2 teaspoon crushed dried oregano
2 cloves fresh garlic, finely minced (sometimes I cheat and used the jarred stuff)

In a large salad bowl, combine greens, onion, tomatoes, walnuts and cranberries. Gently toss.

Dressing:
Combine vinegar, olive oil, water, oregano and garlic; shake well. Pour dress over salad and toss lightly to coat. Garnish with feta cheese. Enjoy!

*Since there is only Brandon and I (Devereaux doesn't do salad quite yet!), I often put the salad ingredients into individual bowls and only cut enough vegetables for our servings. I will make the dressing and store the extra in the refrigerator. It just takes a few minutes to return to liquid form at room temperature the next day.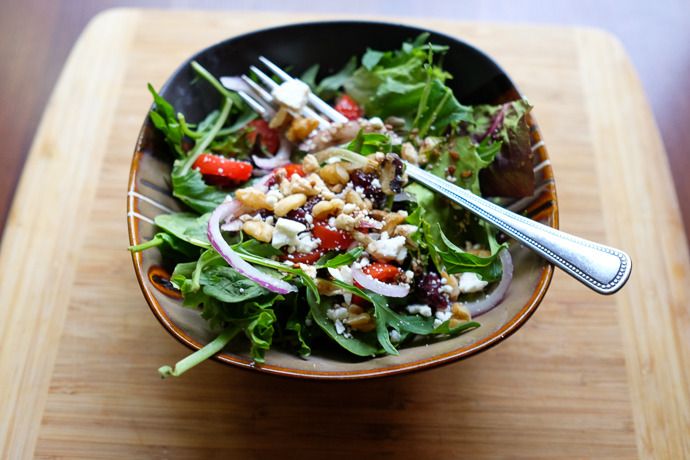 Yeah, I really love this salad.